Over the last few months, our affiliate site wasn't performing so well.
We were racking our brains as to why our site started dropping in search traffic and keywords indexed on a daily basis.
Now, if you've been in a position where your newly-built site is absolutely tearing up the SERPs, then I'm sure you'll understand the sense of reward you feel when checking Ahrefs every day.
Well, up until the start of 2020, that was us.
We thought we nailed it in our niche and would be seeing $1000 a month in affiliate commissions by March 2020…
But, we totally missed the mark.
Let me rewind a bit and give you some background on our website's journey.
I've been creating websites and working on digital marketing campaigns for quite some time at my agency.
I wanted to dip my toe in the affiliate space to kill some time, so my web developer and I decided to take on a mini-project last year.
At this point, we hadn't yet decided on a niche or built a content strategy for the affiliate site.
Rather than starting from scratch with a brand new domain, my web developer and I ended up trying to find an expired domain on expireddomains.net.
Weeks went past of aimlessly scrolling down the results of all the recently dropped domains that appeared in the results.
This was the hardest part — finding a domain worth its salt.
My main focus was looking for a site that had a .com TLD and a diverse existing link profile.
Searching for a domain like that really opens your eyes up to how much rubbish is out there.
Here are the attributes we used to search for our domain: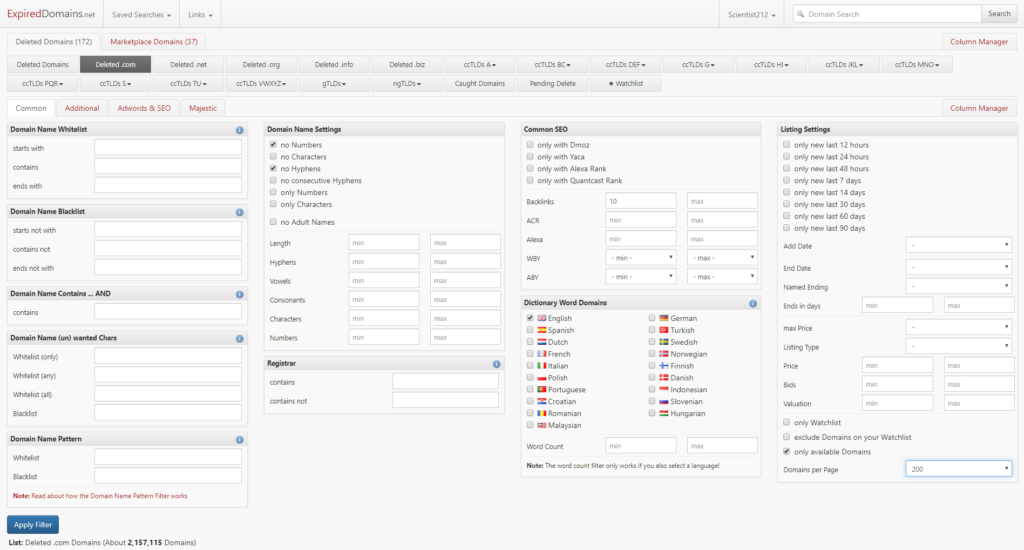 (Source: Author's Screenshot)
Select deleted ".com" domains
Head over to advanced filter
Tick no numbers and no hyphens (nobody wants numbers and hyphens, right?!)
Under Common SEO, enter a minimum of 10 backlinks
Select English in the dictionary word domains
Under listing settings select "only available domains"
Set domains per page to 200
Hit "Apply Filter"
This was the bulk of our settings, and we stuck to them religiously.
As I was searching, I ended up thinking of some niches that could work well.
You may be wondering why we didn't do any niche research.
Well, truth be told, we had an understanding of the Keyword Golden Ratio (KGR), and this was going to be part of our strategy.
KGR + Domain Authority = Winner (or so we thought).
If you haven't heard of KGR, check out this awesome resource to incorporate it into your keyword research strategy.
If your search presents you with pages upon pages of results, sort them in descending order by the number of backlinks.
(Note: The number of backlinks doesn't always match up to our tools (such as Ahrefs) because expireddomains.net uses Majestic to pull data and displays backlinks as the total amount of links from all sites).
Run anything that looks good on the surface through your chosen analysis tool and check out the links and domain history.
Typically, at least half of the domains had terrible links with no value whatsoever, and the other half was killed off by spammy looking Chinese links.
It's a time-consuming process, but we kept digging.
Eventually, we found a couple of decent domains and purchased them — but we didn't hunt down the "perfect" expired domain for quite some time.
We created and published content on those first domains we purchased and set them aside for a rainy day.
Those sites are ranking as you'd expect, and they'll make for a perfect project after this one is complete.
Eventually, we struck gold 
We found one!
250+ referring domains that consisted of forum comments, 2.0's, guest posts, news sites — the works!
Sure, maybe you can find a better domain if you keep looking, but after weeks of hunting, this was the domain that best matched our brief.
After wasting a ton of time on this, I advise you to search for a domain that ties into a niche you want to target and pop it into the "contains" section of the advanced search filter.
In the screenshot below, I've entered yoga to give you an example: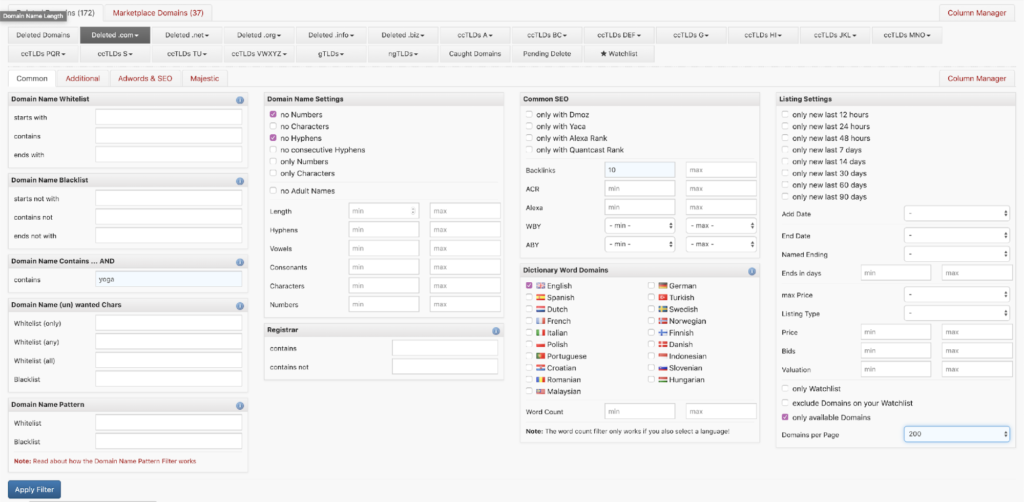 OK, so after taking a closer look at our chosen domain:
It was an "aged" site that had been live for about three years.
It was previously a news-related site, relevant to one of our prospective niches.
Later, it was redirected to a new domain, as the news site changed their name.
The expired domain sat on a 301-redirect for about five years.
The site was old, and the domain gained all its links when it was live.
In hindsight, I guess we went against the advice some 'experts' give on hunting for expired domains.
We didn't overthink this part.
In August 2019, we purchased the domain and began putting our content strategy in place.
Putting it all into motion
We started building out our content strategy and aimed to publish approximately 100 buyer guides and 100 supporting articles on the domain.
Traffic started picking up as we published content.
Before we knew it, in three short months, the site was peaking at 50 visitors a day with about 40 buyer's guides and 50 articles.
Another month went past of substantial improvements, and then, starting in February, everything took a downward spiral.
Traffic dropped to 20 visitors a day.
Keywords started to drop from gaining 50 per day to losing 20 per day.
During the time the site was declining, we continued to add more content.
We thought we'd see an improvement from publishing additional content, but things were still slowly decreasing.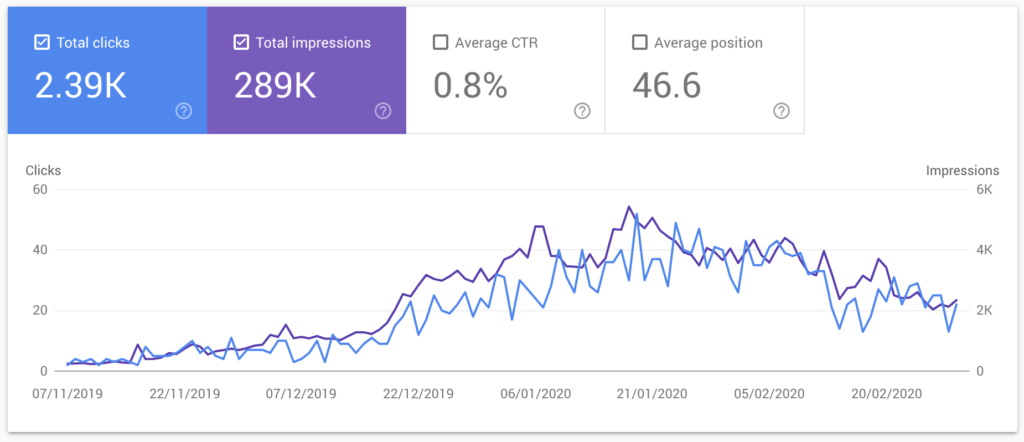 After two months of ever-diminishing returns, we took the following steps:
Internal Link Structure – Our focus was to create silos that build authority to the guides we made.
EAT – We created a profile for our alias writer and added an 'About' section to the bottom of each guide.
Social Media – We focused on building our social platforms to add more authority to our site.
More Content – We kept adding content regularly to ensure our publishing velocity remained the same as during our building phase.
Site Speed – We decreased load times from 4 seconds to 2 seconds.
Design – Albeit the design was great to start with, but we edited all our pages to be of a suit to ensure there were no inconsistencies.
CRO – We changed CTA button colors to be more prominent and reworded the buttons to "Check Latest Price" rather than "Buy On Amazon"
Cleared Out Index Bloat – There were several pages that Google indexed that didn't need to be there, so we disabled as many pages as we could to prevent anything unnecessary being picked up by Google.
Adjusted Our 301 Redirects – With an aged domain, links tend to point to pages that no longer exist. Our rankings were so sporadic towards the end that we decided to redirect everything to the home page. It was hard to find information on how best to go about this, as most advice contradicted itself. Where we added content daily, a WordPress plugin called "WP 404 Auto Redirect to Similar Post" caused mayhem. We deleted the plugin to see if that helped stabilize our rankings.
Ran SurferSEO on Focused Buyer Guides – Surfer helped eliminate any pages that were underperforming due to lack of quality/word count/rich content/on-page SEO.
Some of the above steps may seem commonplace, but they often go ignored.
Meanwhile, no matter how much content we added, the site remained stagnant.
All that time we spent trying to save the site from decline had no effect.
After implementing all the above changes in January, we let the changes sit for two months.
We still saw a consistent drop with no improvement in results.
In the end, we spent way more time trying to fix the site than we spent trying to build it in the first place.
Ultimately, we came to the conclusion that "Big G" grew to dislike the expired domain we built the site on, rather than the content itself.
Dear domain, it's not me, it's you
We had read that Google strips back your keyword rankings once it works out the intent of your site.
As I mentioned previously, the existing domain had been a news site, and we converted it to a review site.
In my opinion, Google got excited when we began pumping new content onto the site, then realized that the content had a different intent than before.
The effect of this was that Google started knocking off keywords that weren't relevant to what our site provided the user.
In the same brushstroke, some of our "Best X" keywords took a hit too.
Given all the effort we put into our website, we decided to scrap our pre-owned domain.
We really had nothing to lose.
Our Amazon Affiliate earnings from the guides were non-existent, and the traffic was dropping daily.
At this point, all we actually had was content.
Content no one was reading.
So, we made a leap of faith.
We searched for a new domain since this was the next thing to try on our "Stop our website from dying" list.
The aim was to find something that was more brand-able.
As if by fate, we stumbled across an awesome domain that was on an auction ending in 2 hours.
A single word domain.
After checking out its history, the domain was for a retail shop that had shut down in December after running for 45 years.
It had TONS of reviews online on all the major directories, TONS of citations, and a few articles written about it.
We took the plunge and won it at a steal.
It's worth noting that although the domain is old and only dropped in December, the traffic and keywords were quite low.
But that was fine with us.
We were only looking for a brandable domain that we could build citations to.
So, this domain was kind of a win-win.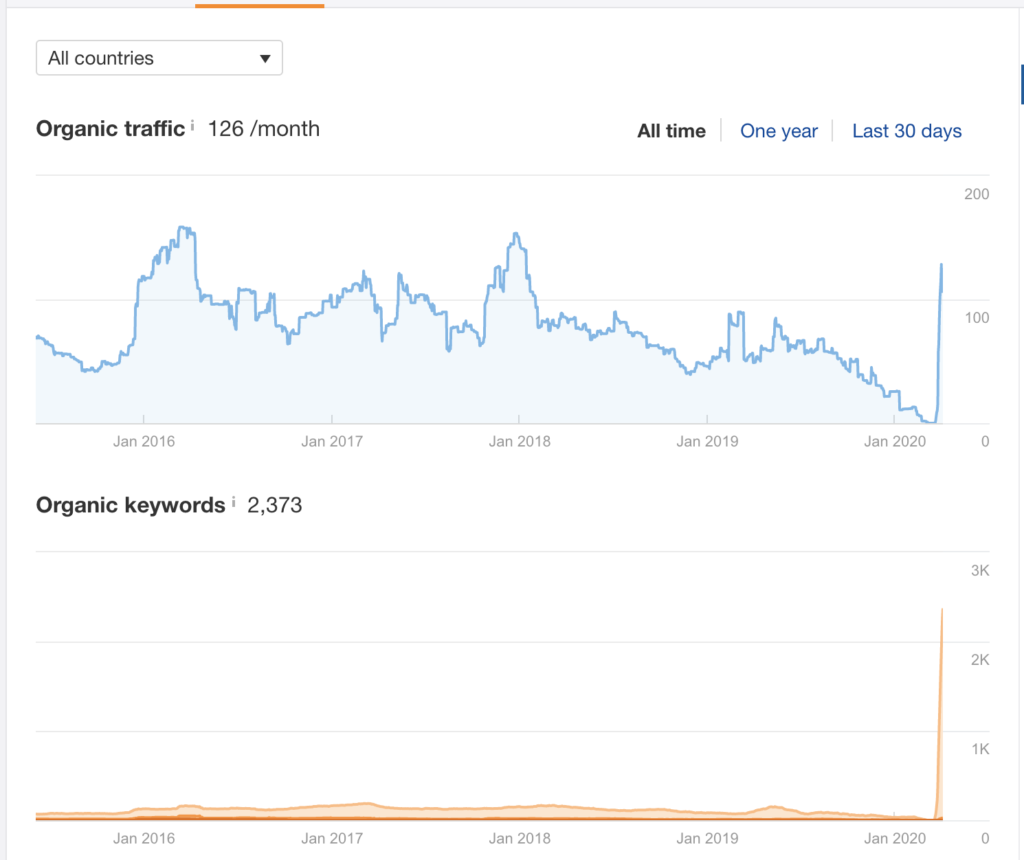 Here are the next steps we took to carry out the domain changeover:
Migrated the existing website to the new domain.
Updated the names, added the old business address to the domain to keep things consistent, and told Google about our new domain (on GSC and GA).
Added a 301 to the .htaccess file to send all old URLs to the new URLs.
It took two days to see any movement, as our old domain was still showing up in the SERPs.
Then…
The magic began to happen.
Over the last ten days, we've:
Generated $100+ in Amazon revenue.
Seen more keywords indexed than on our old domain (in our target country of the US).
Achieved higher ranking positions for our targeted keywords.
More than doubled our highest amount of daily traffic on Google Analytics. (we're at 85 organic visitors per day)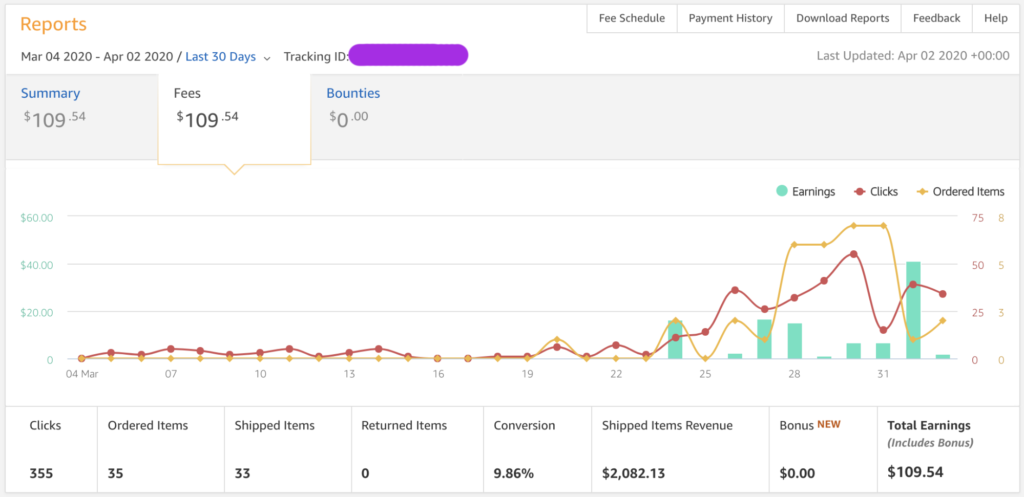 To wrap it up…
My takeaway from our experiment is that a domain with a real business location and a real address may have made all the difference to Google. 
It's difficult to prove, but having a domain with user-generated content across a few platforms and an established location has made a huge difference for us.
Now that we've started to see our site flourish, we're building links to keep the upward momentum going.
It may also be worth noting that we didn't build a single link through this whole process until now — we've just started outreach.
The only links either domain had were pre-existing.
The primary difference between the two domains is the citations and a tie to an exact physical location.
Our new domain has a clear physical address, whereas our old domain didn't.
Should we have tried to build citations?
Maybe…
But there were too many other contributing factors as to whether that would fix our issues.
Our new domain seemed like the quick win, so we took the gamble.
Here are our objectives for the next three months:
Focus on increasing rankings for our target buyer guides by adding related content and building links through guest posts and broken link building
Run SurferSEO on all buyer guides that haven't been tweaked
Focus on building our social presence on Pinterest to increase traffic to our articles
Drip three guides and ten articles onto the site per week
Surpass 10,000 monthly organic visitors
Obviously, it's extremely early days.
Rankings and traffic are creeping up daily, but I'm hoping that our struggles over the last few months can help someone else out.
I'd love to know what you would have done after seeing rankings and traffic drop for your affiliate site.
Would you have let the site sit for longer or started building links, never knowing if your hard work would pay off?
Let me know in the comments!
[cta]
[author_bio image="https://seobutler.com/wp-content/uploads/2020/04/Curt-Hems-150×150.png" name="CURT HEMS"]Curt has been marketing businesses for nearly a decade and runs Creed Marketing, a digital agency specializing in Branding, SEO, Web Design, and CRO. Curt has worked with some household brands to great acclaim and his recent step into the affiliate marketing space has allowed him to test and measure new and existing techniques to find results that create huge outcomes in the digital world.
[/author_bio]