As predicted in The End of Google, the US Department of Justice, under Attorney General William Barr, delivered on their promise to file an antitrust lawsuit before the November presidential election.
The lawsuit was closely preceded by a scathing 451-page report by the US Congress's Judiciary Subcommittee.
The "Investigation of Competition in Digital Markets" put all of tech's Big 4 of Google, Amazon, Apple, and Facebook on blast — but Google arguably most of all. 
This intense scrutiny and legal action from two branches of the Federal Government comes at a time when state attorneys general nationwide weigh bringing antitrust lawsuits against Google in state courts.
In the midst of the most polarized political climate in living memory, there's one thing lawmakers from both sides of the aisle can agree on…
Google has too much power — and it must be stopped!
(Or better regulated at the very least…)
Is Google a Monopoly?
The most hotly debated topic on social media after we published The End of Google? was whether Google constitutes a monopoly in the first place…
Google certainly doesn't think so…
Prabhakar Raghavan, Google's head of search, recently said, "There's never been more choice and competition in the way people access information."
The Justice Department begs to differ, as the headline on their official press release announcing the antitrust lawsuit makes abundantly clear:
Despite Google's dominance in search and search advertising, the company does not meet the dictionary definition of a monopoly: "The complete control of trade in particular goods or the supply of a particular service."
As many of our readers argued, there are numerous search engine alternatives to Google, including Bing, DuckDuckGo, and Yahoo.
Google is quick to point this out, saying in a recent blog post, "Today, you can easily download your choice of apps or change your default settings in a matter of seconds—faster than you can walk to another aisle in the grocery store."
Google called the DoJ lawsuit "deeply flawed," reasoning that, "People use Google because they choose to, not because they're forced to, or because they can't find alternatives."
"Competition is only a click away" – Larry Page, Co-founder of Google
Rather than split hairs over whether Google's nearly 90% share of the US search engine market constitutes a true monopoly, let's take an updated look at the various threats to Google's dominance — now that the picture is becoming clearer.
The DOJ vs. Google
As expected, the DoJ filed their antitrust case against Google just under the wire in advance of November's presidential election.
Attorney-General Barr made this timing a priority, over the strong objections of career attorneys who expressed their desire for more time to build a stronger case.
According to many tech-world pundits and observers — like The Verge's editor-in-chief Nilay Patel — those disgruntled lawyers may have had a point:
Eleanor Fox, a trade regulation professor at the New York University's law school, said, "[Google] shouldn't see this as 'the beginning of the end.' It certainly doesn't go to the guts of what some people think is wrong with Google."
Much of the disappointment from Google's critics stems from the narrow focus of the DoJ's lawsuit… The SERPs don't even merit a mention. 
Instead, the suit zeros in on Google's established practice of paying manufacturers like Apple and Samsung to make Google the default search engine on their devices. The indictment also targets the Android OS and Google's strategy of requiring partners to bundle apps like Maps and Gmail on Android OS products. 
"For a general search engine, by far the most effective means of distribution is to be the preset default general search engine for mobile and computer search access points.

Even where users can change the default, they rarely do. This leaves the preset default general search engine with de facto exclusivity.

As Google itself has recognized, this is particularly true on mobile devices, where defaults are especially sticky." – Dept. of Justice vs. Google
One of the biggest hurdles the DoJ faces in proving its case before a judge lies at the very heart of American antitrust legislation…
The main goal of antitrust legislation has evolved through legal precedent over the years. Its primary aim is now widely interpreted to be protecting the welfare of the consumer. 
Google will undoubtedly argue — as many End of Google? readers did — that not only are its search products superior to their competitors, but they're also free…
So, where's the harm to consumers?
The government will likely argue that Google's practices are anticompetitive — and that "unfair" barriers to entry for competition ultimately lead to consumer harm.
As Ben Thompson, of the excellent Stratechery, puts it, "Google may have earned its position honestly, but it is maintaining it illegally, in large part by paying off distributors." 
Thompson is one pundit who disagrees that the DoJ lawsuit is a misfire.
"The particulars of the Justice Department's complaint have been foreshadowed for a long time, and make for a case stronger than most of Europe's.

If the lawsuit fails in court — as it very well may — it also points to where Congress should act to restrain the largest companies in the world." – Ben Thompson, Stratechery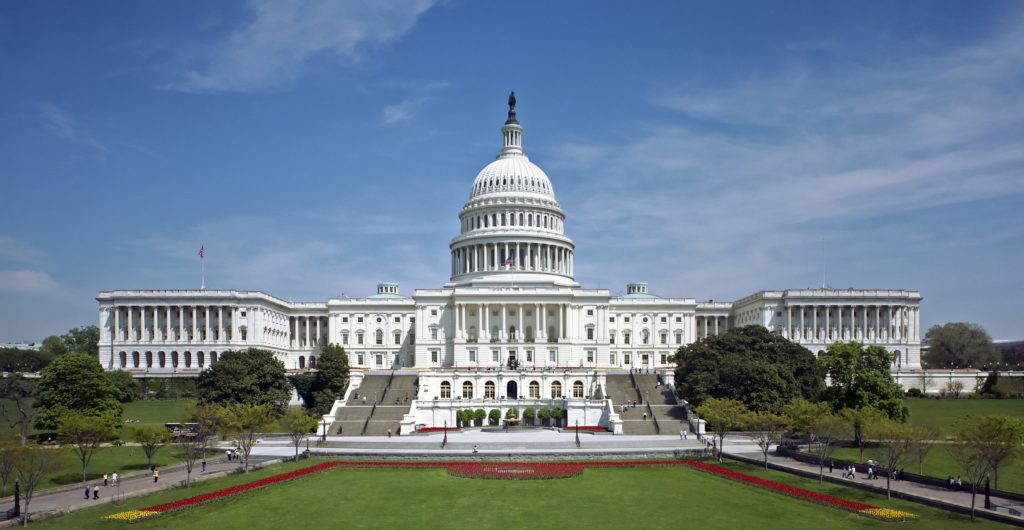 Congress vs. Google
Congress's recently released "Investigation of Competition in Digital Markets" was over a year, many hours of committee testimony, and almost 1.3 million evidentiary documents in the making… But the introduction wastes no time in getting straight to the point.
"To put it simply, companies that once were scrappy, underdog startups that challenged the status quo have become the kinds of monopolies we last saw in the era of oil barons and railroad tycoons. 

Although these firms have delivered clear benefits to society, the dominance of Amazon, Apple, Facebook, and Google has come at a price." – House Judiciary Subcommittee
Recent quarterly earnings reports bear out Congress's comparison of the Big 4 to the robber barons of America's Gilded Age. 
"Amazon, Apple, Alphabet, and Facebook reported profits that highlighted how a recovery may provide another catalyst to help them generate a level of wealth that hasn't been seen in a single industry in generations.

Combined, the four companies reported a quarterly net profit of $38 billion." – The New York Times
Google's Sundar Pichai wasn't the only Big 4 tech CEO in the hot seat in the hearings that led up to the report, but Congress reserved some of its harshest criticism for Google's business practices.
"Google has a monopoly in the markets for general online search and search advertising.

Google has maintained its monopoly over general search through a series of anticompetitive tactics."
The report also took aim at what it claims was the suppression of alternative search engines in specific markets — think Yelp for local search or Orbitz for travel — stating, "Google used its search monopoly to misappropriate content from third parties and to boost Google's own inferior vertical offerings."
As in the DoJ's antitrust lawsuit, Congress also took issue with Google employing "a series of anticompetitive contracts," inducing Apple and other manufacturers to make Google the default search engine on their devices. 
Here's a passage that no doubt will strike a chord with many an SEO.
"Since capturing a monopoly over general search, Google has steadily proliferated its search results page with ads and with Google's own content, while also blurring the distinction between paid ads and organic results."
The States vs. Google 
The scope of any legal action state attorneys general (AG) may pursue against Google is yet to be revealed. But that didn't stop New York's Democratic AG Letitia James from firing a warning shot — timed to coincide with the DoJ lawsuit — across Google's bow.
James announced that the bipartisan antitrust investigation into Google continues… 
"This is a historic time for both federal and state antitrust authorities, as we work to protect competition and innovation in our technology markets. 
We plan to conclude parts of our investigation of Google in the coming weeks." Letitia James, NY State Attorney General
On the other side of the country — and the opposite side of America's political divide — state AG Ken Paxton announced that Texas, along with 10 other Republican states, would join the federal lawsuit against Google.
"Google's anticompetitive business strategies have disrupted the competitive process, reduced consumer choice, and stifled innovation. 

Our action today is intended to restore competition and allow rivals and next-generation search engines to challenge Google so that the marketplace, not a monopolist, will decide how search services and search ads are offered." – Ken Paxton, TX State Attorney General
Observers widely expect the state's investigation to focus on Google's advertising business — the source of over 70% of parent company Alphabet's revenue.
Combined as a "triopoly," Google, Facebook, and Amazon combine for 62% of total digital ad spending in the US.
In an interview with the Washington Post, Paxton — dubbed Google's competition cop — had this to say: 
"Consumers may feel really good about having free searches, but the reality is nothing's free. And if there's no competition on the Internet for advertising, then consumers, unbeknownst to them, are paying much higher costs for products than they otherwise should."
In more bad news for Google, California — one of only two states not to sign on to the bipartisan antitrust investigation announced in 2019 — reportedly launched its own antitrust investigation in the summer of 2020.
Even the home of Silicon Valley might not be a safe haven for Google for long…
SO, IS THE END NEARER FOR GOOGLE?
Whether any of the pending or future antitrust lawsuits succeed in the courts, the fact that there is bipartisan momentum behind them points to one thing…
People (and politicians) are increasingly alarmed that a handful of private companies, like Google, have such a massive impact — and extraordinary control — over our everyday lives.
Ultimately, the answer to that escalating concern may not come from existing legislation like The Sherman Antitrust Act, which is 130 years old and designed for a very different world…
Instead, the solution may have to come from new laws and regulations passed by our elected governments who — in theory, at least — represent the will of the people.
All the more reason to get out there and VOTE!
[cta]
[author_bio image="https://seobutler.com/wp-content/uploads/2019/06/Sean-Shuter-Circular-Portrait-1-150×150.jpg" name="SEAN SHUTER"]SEOButler's Editor-in-Chief, Sean has been writing about business and culture for a variety of publications, including Entrepreneur and Vogue, for over 20 years. A serial entrepreneur, he has founded and operated businesses on four continents.[/author_bio]