Years ago, the SEO community borrowed the now familiar White Hat/Black Hat terminology from the world of hackers.
Back then, there was much debate about the value of so-called Black Hat tactics.
Black Hat SEOs argued that their services, however unethical, were valuable to clients.
And, to be honest, they had the results to back up their claims.
But, Google has consistently cracked down on Black Hat dirty tricks through algorithm updates over the years.
It seems clear to me: the Black Hats have had their day.
But that doesn't mean they've disappeared.
Far from it.
Even in 2020, SEOs are still divided into White Hats — who follow guidelines, do things the right way, and take time to deliver quality results — and Black Hats.
The Black Hats are in it for the quick buck, churning out low-quality content, and ignoring guidelines to get results fast.
Today, I want to discuss White Hat vs Black Hat SEO tactics.
And why in my view, the White Hat SEO route is the only way to go — particularly when it comes to guest posting.
What is Guest Posting and Why is it Necessary for SEO?
Guest posting or guest blogging is simply writing content for publication on someone else's site.
By publishing a guest post with high-quality content on websites within the same industry, SEOs boost their clients' sites up the search engine results pages (SERPs).
But good SEOs are after more than that.
A skilled SEO will use guest posts to:
Boost Domain Rating (DR) or Domain Authority (DA) with do-follow backlinks
Increase brand awareness
Build client reputation
Provide a fresh perspective for sites who accept guest posts
Forge strong symbiotic relationships with partners.
Guest posting truly is one of the most valuable tools in an SEO's arsenal.
However, as fellow SEO Neil Patel said in a recent article about the power of guest posts, "Not all guest posts are created equal and they don't all yield equal results. You have to go about it in the right way, and you have to choose your targets carefully."
Black Hat Guest Posting
Unfortunately, over the past decade or so, Black Hat SEOs have given guest posting a bad name by using numerous tactics that are clearly against Google's Webmaster Guidelines.
These tactics may provide clients with a quick boost in DA or DR, but they're high-risk.
Sometimes, Black Hat guest posting can lead to Google penalizing sites in the SERPS.
Or in worst-case scenarios, sites can even be banned from Google entirely.
Although you can file a reconsideration request, if Google catches you using black hat methods, your site may end up as toast.
But what are Black Hat SEO tactics?
Low-Quality Content: Quantity over Quality
One of the main tactics of a Blackhat SEO is producing mass volumes of low-quality content and pumping it out to dozens or even hundreds of sites at a time.
Instead of creating valuable articles, infographics, or videos for a human audience, Black Hat SEOs are only worried about quantity.
From duplicate content to irrelevant posts, black hats will use any guest posting tactic necessary to get their link published.
Do-Follow or Nothing
That brings us to the do-follow links. Black hat SEOs are only worried about one thing — placing a do-follow link.
There's no concern for the readership of the site they post on, or the reputation of their clientele.
As long as that link juice is passed along, that's all that matters.
It's Called Link Building Not Link Buying
Black Hat SEOs also rarely produce content of high enough quality to be published without payment.
Instead, Black Hat SEOs are just buying space on a page for a link.
That means they can't build a network of trusted relationships by sharing valuable information for readers.
Stuffing Keywords
Another common tactic used by Black Hat SEOs is keyword stuffing.
The idea is simple, manipulate Google's search algorithm by stuffing posts with often searched keywords.
For example, instead of writing, "We're Jamie's Plumbers. You can find our rates or learn more about our company's history by clicking here."
You might see a Black Hat SEO write: "We are a local plumbing company. You can find our rates for our plumbing company by clicking here. You can find our plumbing company history by clicking here. Call for more information about our plumbing company."
Link Building Schemes
Google has very clear rules set out in regards to link building schemes.
They preclude SEOs from doing the following and more:
Buying links that pass 'page rank'
Excessive link exchanges
Large Scale marketing campaigns with keyword-rich text
Using automated programs to make links
Requiring a backlink as a part of a contract
These days, because of the strict regulations against link-building schemes, many Black Hat SEOs have started to face a crackdown from Google regulators.
Take the example of GotchSEO.
For years, Nathan Gotch was a big believer in link-building schemes.
Over time, he established a number of PBNs (Private Blog Networks) to help build the link profiles of his clients.
A PBN is created when one person owns numerous sites that are interconnected through a web of unnatural links.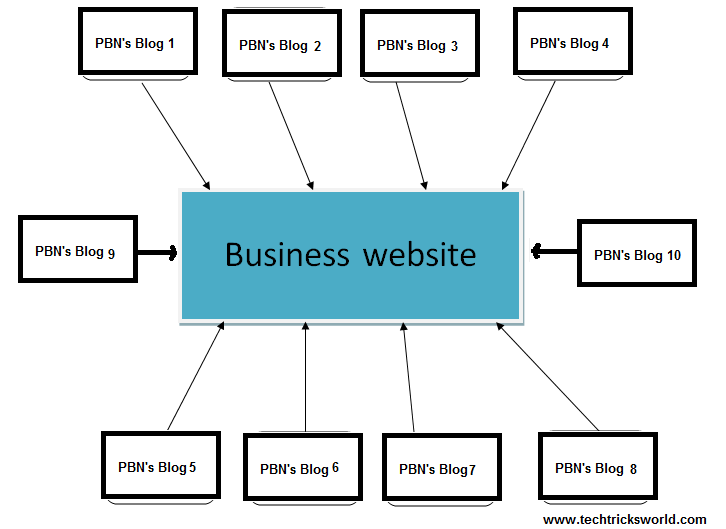 (Source: Techtricksworld)
Using PBNs, a Black Hat SEO can provide clients with boosted DR and DA without having to outreach for guest posts and produce high-quality content.
It was all working great for GotchSEO until one day, his main website and multiple sites were hit by Google.
Link-building schemes may be effective in the short-term, but long-term, they simply aren't worth the risks.
What happened to GotchSEO is just one of myriad examples of Black Hat SEO tactics biting back and hurting clients.
Google's crackdown on Black Hat SEOs over the past decade has been no joke.
Google's Black Hat SEO Crackdown
In the early 2000s, Google's search results were filled with spammy sites and low-quality content.
This was partly due to the proliferation of Black Hat SEO tactics.
Google realized it needed to act to make sure the search engine wasn't being fooled by crafty, and sometimes even shady, SEOs.
Thus began the crackdown on Black Hat SEO tactics through updates to the search algorithms.
Florida
It all started with the Florida algorithm update in November of 2003. The update sought to shut down websites that were overly optimized and promote those with premium content.
The exact changes made to Google's algorithms are never made precisely clear to the SEO community.
This leaves the industry reeling after each release — even to this day.
What is clear about Florida is that it hurt many businesses around the world.
According to the now-defunct SearchEnginePosition.com, which ran tests on hundreds of SERPs back in 2004, the Florida filter was responsible for removing an average of 72% of all listed sites from SERPs tested.
Panda
Continuous search engine updates in the past two decades since Florida illustrate Google's commitment to preventing spam and improving the quality of its search results.
After Florida, there were numerous smaller algorithm changes.
Then on February 23, 2011, Google released Panda, and the SEO community was once again hit hard.
Panda targeted 'thin' content, content that doesn't fit with site themes, plagiarized content, sites with high ad to content ratios, and much more.
Google's blog post about the update again shows just how little the company releases on the technical details of the updates.
Panda ended up affecting some 11.8% of total queries according to Google and helped put an end to a number of common Black Hat SEO tactics.
It also knocked out content farms the pumped out content lacking quality on niche topics so that it would be picked up by search engines.
Penguin
When it comes to backlinking and guest posts, one of the most important algorithm updates was Penguin.
Penguin 1.1 went into effect on March 26, 2012 and affected 3.1% of SERPs.
From 2012-2016 there were ten documented updates of Penguin.
Penguin targeted Black Hat SEO guest posting strategies in particular.
Unnatural links, link schemes, and keyword stuffing — all are now detectable by Google's algorithm (at least to some extent).
Since Penguin, Google penalized countless sites for having unnatural links or for being involved in one of many link-building schemes.
Thankfully, if your site has been hit by Google because of spammy links, you have the option to use Google's disavowal tool.
That way, just maybe, your site can recover from your Black Hat SEO missteps.
Although Florida, Penguin, and Panda, are perhaps the three most well-known updates, these days the updates just keep rolling.
In fact, there have already been two in 2020, according to data from Moz.
And back in 2018, the Medic update affected millions of sites around the world.
It's clear Google has no patience for Black Hat SEOs and, in particular, Black Hat guest posters.
And if that's the case, there's only one option.
White Hat Guest Posting
The fact is that Google's algorithm changes will mostly be irrelevant to you if you simply play by the rules.
That's what a White Hat SEO does.
Content Quality For A Human Audience
By focusing on creating content that is high-quality, unique, and valuable for readers, White Hat SEOs can get guest posts on sites without having to pay.
Where a Black Hat SEO might write an article in a half-an-hour just to keep pumping out the content, White Hat SEOs often take days to perfect the piece, so it brings real value to a human audience.
Forging Relationships
White Hat SEOs also focus on forging long-lasting relationships with the editors and owners of sites they post on.
They don't just send out thousands of spammy outreach emails, hoping to hit their target.
Instead, White Hat SEOs seek out long-term partnerships with bloggers and webmasters.
By doing so, they can post well-thought-out, informative material that is actually valuable to the readership.
White Hat guest posts are beneficial for the poster, the author, and the reader.
That makes guest posting the right way a powerful networking strategy.
It's Not All About The Link
For White Hat SEOs, it's not all about the backlink.
While link building is an effective strategy, there is more value to be had from guest posts.
White Hat SEOs use guest posts to position their clients as experts with quotes, stats, or studies.
They post quality content and don't hide their authorship.
They seek to build brand reputation, not destroy it.
For White Hat SEOs, the link is just one factor in the value of a guest post.
Following Regulations
Above all, White Hat SEOs simply follow Google Webmaster regulations.
Such compliance makes White Hat SEOs far less risky for their clients.
You won't have to worry about Google banning you if you do things the right way.
Guest posting often gets a bad name in the SEO community these days.
Black Hat SEOs have taken over the space as a quick means of increasing backlink profiles for clients.
Their promises of quick wins draw in unsuspecting clients, only to cause more harm than good in many cases.
That's why I believe in time, White Hat guest posting will show its value, and Black Hat SEO tactics will be a thing of the past.
I don't know about you, but I would rather be on Google's good side.
[cta]
[author_bio image="https://seobutler.com/wp-content/uploads/2020/03/William-Headshot.png" name="WILLIAM DANIEL"]William Daniel is SEO Content Writer at Markitors, a Phoenix-based SEO company. His ghostwriting work has been featured on dozens of sites all over the internet. He is also a regular contributor to SeekingAlpha.com and a consistent dividend growth investor. William is currently working on his Master's degree in Business Journalism and continues to provide quality SEO content and advice for clients around the world.
[/author_bio]