We are back this week with our favourite post of the week – THE MONDAY BRIEFING. In the news section, we are covering: Google coming out with a new look for AdWords Price Extensions, Facebook launching an analytical tool for Messenger bot makers, Google establishing a new policy for fake news websites, and Bing testing Dynamic Search Ads.
In the interesting reads section, we have articles based on customer reviews, traffic to websites, and outbound link penalty. Go on…get briefed!
News:
Google Unveils New Look for AdWords Price Extensions
Price Extension was a prominent feature rolled out by Google earlier this year for mobile text ads. This feature basically shows products and services underneath mobile text ads with corresponding prices for each.  Direct links are created for the products and services, so that the customer is redirected to the respective page after its being clicked.
When the feature was launched, the products and prices would be displayed as a list of rows. But last week, Google announced on Twitter that it is going to launch a new look for AdWords' Price Extensions.
Before:
After: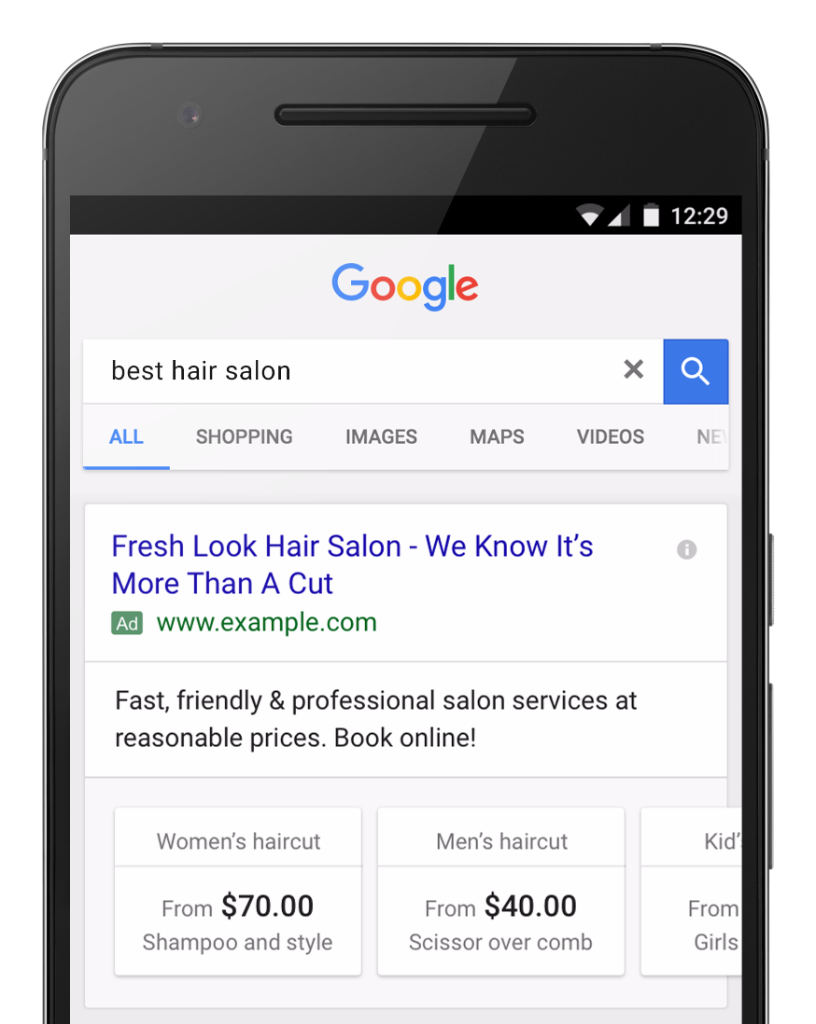 In addition to this, Google also announced that the feature will support 10 additional languages – English, Dutch, French, German, Italian, Japanese, Polish, Portuguese, Russian, Spanish and Swedish. To know more about the new look, read here. 
Facebook Has Created its Own Analytical Tool for Messenger Bots
Messenger bots were introduced by the social media giant earlier this year. Publishers and developers were able to build Messenger bots to reach out to people on mobile devices. These bots help connect with the customers and solve their problems.
Last week, Facebook announced that it has rolled out an analytics tool for bot makers, and this tool will help them understand how users interact while also improving the user experience.
The analytics tool is much needed, as the makers can come to know how many users do not want to receive a message from a bot. They can also break down that audience according to age, gender, job title, relationship status, household income, purchase behavior, etc. Facebook has also come up with an interesting metric that allows the makers to see the last message sent by the bot before the user opted out from receiving message from the same. This metric would help them improve the user experience with bot.
Interested to know more about the tool? Read it here.
Google Posts New Policy Against Fake News and 'Misrepresentative' Sites
Have you ever come across a news article which is very interesting to read only to later find out that the news was fake? Lately, Google has received backlash by users thanks to politically-charged, fake news that coerces users into believing it is fact. 
Thus, to solve this issue, Google has come up with a new policy for its AdSense publishers which states,
"Users don't want to be misled by the content they engage with online. For this reason, Google ads may not be placed on pages that misrepresent, misstate, or conceal information about you, your content or the primary purpose of your web property."
This move would curb money for fake news websites and will also stop misleading the public. Read more about it here.
Bing Ads Tests Dynamic Search Ads
Dynamic Search Ads is a concept PPC marketers would be aware of ever since Google introduced it in 2011. Whenever a user searches a keyword relevant to a product or service, an ad is dynamically generated which red-direct the user to the required landing page.
Bing, Google's search competitor, is testing Dynamic Search Ads and is going to launch it soon. According to the company, it is ideal for two types of customers:
Those who have a lot of pages and are advertising a large number of products or services (and have a constantly changing inventory), which makes it difficult to manage search ads.

Those who aren't familiar with search advertising but want to test it out.
Read more about it here.
Interesting Reads:
70% of Customers Will Leave a Review for a Business When Asked
Have you ever been asked to leave a review after purchasing a product? Or been redirected to the app store from your mobile app asking you to rate the app? We all have experienced these situations, ultimately an initiative that helps improve the reputation of a business.
 Just imagine, you have two similar functioning products (from different companies) and you don't know which one to buy.  You usually look at the number of review stars and the kind of reviews the customers have left. It eases the process of purchasing a product. Online reviews are important because a positive review will have a great impact on the confidence of decision making of the buyer, among many other compelling points.
A survey was conducted by BrightLocal on how consumers search for local businesses, and the role that online reviews play in consumers' research and decision-making process. There have been some interesting results which online marketers should make note of for their own campaigns. Learn more about this compelling study here.
The Battle for Traffic: Organic SEO Vs Social Media Marketing
SEO and SMM are two concepts which go hand-in-hand. Anyone in the digital marketing world would agree, SEO isn't complete without SMM and vice versa.
In this article, the author is trying to understand how exactly SEO and SMM work together and if social signals affect website's visibility on Google. From what the author has learnt for investigating a lot is:
Social media signals don't influence site rankings

SEO isn't effective without harnessing social media channels
The author has conducted a research on top 10 blogs from the digital marketing industry: 5 from SEO and 5 from SMM to highlight the idea, "When you share content on SMM channels, you're not only getting engagement, but also bringing visitors to your site. "
Want to know what the author concluded from his research? Find out here.
How to Avoid an Outbound Link Penalty from Google
Search Engine Optimisation takes a long time for many businesses to achieve and is an ongoing process. While some businesses may rely on unconventional methodologies, others may use clearer and fundamental practices in their campaigns. Regardless, some businesses have high volumes of links and over-optimised anchor texts on their site, meaning it may be detected by Google. When Google finds this in a website, it sends a manual outbound link penalty, which looks something like this:
The author here recommends some ways to avoid this penalty:
The website should avoid linking to spam and low quality websites

Add 'no-follow' link to the user-generated content
Want to know more ways to avoid this penalty and also what to do if you are penalised? Read here to know about it.