Want to fill your site with content that Google loves AND instantly turns your visitors into customers?
Well, yeah! That would be nice, wouldn't it?
"But SEOButler," I hear you say, "It's not as simple as that!"
You have a point.
You've got two choices: You either splash out on an ace content writer, or be that person yourself.
If you want to become that person – awesome! We've got some news for you:
The bad news: There is a lot of technique involved in producing smart, engaging copy that converts.
The good news: We know the craft. And we want to teach you.
Allow us to introduce The SEOButler Content Mega Guide, your one-stop-shop for everything content and copy.
We're going to show you what makes brilliant headlines, CTAs, blog posts, buyer's guides, blah blah blah—you name it. ALL to make visitors want to buy your stuff.
THEN, we'll show you how to use keywords to their best effect.
AND how to format the whole thing.
Whatever you're writing, we're going to share our very own secrets that we learned the hard way, so you get it right the first time.
You're lucky this is free, actually!
So, if you're serious about writing content, we recommend you read from top to bottom.
BUT, as this is going to be a biiiiig guide, we won't be offended if you use the handy contents table below to jump straight to what you need.
Just this once.
Affiliate Sites and Buyer's Guides
SEOButler's Content Products Explained
How to SEO Optimize Everything
How Important Is Content?
HOLD UP.
Before we begin, we want to quickly drive home why we love content so much.
Why do we only hire college-educated writers based in the US and UK to create content for our customers?
Because we know that top-notch SEO and upping your conversion rate relies on unique, intelligent copy.
As Matt Diggity wrote in this brilliant conversion content post, quality content isn't a DIRECT ranking factor…
But it certainly is an INDIRECT ranking factor.
Put it this way. Google knows how much time a visitor spends on a webpage, and they won't stay long if what's there is grammatically-incorrect, garbled garbage.
Even less likely are visitors to buy whatever that website is selling or offering when greeted with mediocre content—or worse.
The entire point of having a website for your business is to convert your visitors into buyers. The best way to do this is to persuade them with content.
When Google sees that people stay on your site to read all the content—and end up buying afterward—you score some major ranking points.
This attracts more visitors.
You're on a roll.
Without further ado, read on to find out how to land big sales with snappy content.
Homepages and Landing Pages
Homepages are like cakes.
Hear us out: good ones contain all the essential ingredients. Without them, the whole thing fails, looks disgusting, and nobody eats it (in plain terms: you make zero sales).
Don't miss any key ingredients. Follow this SEOButler recipe to make a sweet homepage.
Web Design
The design of your website is the cake's entire foundation. The flour, if you will.
Your website's homepage, or the first page that a visitor lands on, is your one chance to clinch a sale.
Yup – do not fudge this up.
This study concluded that visitors form first impressions of your website in just 50 milliseconds. That's 0.05 seconds.
What does this mean for you?
Well, nobody can read a word within 0.05 seconds, let alone find out what you're selling.
And that means, before we even get to the subject of content, we need to talk about web design.
Long story short, if your website looks like it was built in 2005 or has obviously been created with a basic WordPress template, there's no wonder you're not making sales.
Before anyone buys anything online, they must trust the website.
If someone lands on a new site via Google that they've never bought from before, the site needs to show them it's the real deal before they'll enter their payment details.
When planning designs, think unique, modern, and minimalist.
Original images and stunning CTA buttons.
Maybe some bespoke fonts.
Here's some we love:

Netflix: Minimalist and sleek with a punchy power-statement.


Kindlepreneur: Dave Chesson instantly catches the attention of authors wanting to expand their reach and up their revenue with brilliant CTAs and an unfussy layout.


Empire Flippers: states the facts and hooks the viewer in with some hard-to-ignore figures; not to mention an appealing color scheme and some impressive endorsements.


Rightmove: A front-and-centre search bar with easy-to-reach additional info, plus cute homey graphics.


Elle: A clean background with an array of hard-hitting headlines alongside enticing graphics.


PRO TIP: When developing a site, share a wireframe with your content writer. The content should be created for the design, not the other way around. Giving them a structure will be a huge help in getting the exact content and placement you need.
We're not web design wizards so can't offer much expert advice there—but here's some great further reading about the importance of trustworthiness in your site design.
Headers
Some people shy away from headline writing—but not you.
Don't cave under the immense pressure of needing to lure in your reader with only a few choice words!
We've got some tips for facing your fear: It's easy when you know how.
First off, H1 headers for landing/homepages should be short and snappy.
They need to state who you are and what you're about clearly.
Think of your header as the icing on the cake.
It's got to look appealing enough to eat, but if you go overboard, it's going to be way too sickly.
Less is more.
Take a stab at writing your header, then think about how you can condense it.
No big words, please.
This great headline and subhead guide suggests three good options for web page headers:
Simple: Just state what you're offering (for example: 'Houston Launderette Service')
USP: Sum up the unique benefit of your product or service ('Houston's Most Affordable Launderette')
Make life easier: Tell your reader how your business solves their problem ('Houston's Premier Laundry Pick-Up Service')
Here are some headlines that WORK:
SEOButler: Hey, we're proud of our site, ok?
But for reals, we worked hard to come up with a punchy homepage headline that sums up our business and isn't too wordy.
We played around with all kinds of butler-related puns, but in the end, simple does the job.
Our headline tells our visitors what we do in a nutshell and for what purpose.


Readable: This site shakes it up a bit by asking a question. It intrigues the visitor into using the service and pressing that big red CTA button—precisely what a great headline should make you do.


Help Scout: takes the 'making life easier' route to a great headline by hinting that they can upgrade your current customer service.


Depop: These guys shout about their USP as a creative hub for buying and selling fashion, making them distinct from the online selling platform giant that is eBay.


Central Park Zoo: An interesting one. The headline piques the reader's interest by promising that they'll learn something new—not necessarily about the exotic animals in the park, but about themselves.
Play on human narcissism in your headline and win big!

Introduction
It's a cruel fact of life. Your reader won't be your reader any more if you have a boring intro.
While your heading and subheadings must indeed be hooky, to ensure your reader sticks around to notice your CTAs, you need to reel them in with your real hook. There is nothing that gets people clicking that back button faster than a lackluster introduction.
We've assembled some great advice from the Diggity Marketing content guide on keeping your visitors glued to your page.
Matt Diggity says that your very first line needs to contain one (or a combo, go wild!) of these three things:
Something the reader didn't know before: A cool fact or stat. This way, your reader immediately thinks you're an authority and wants to learn more from you.
Humor: Make a joke. Then keep a funny, engaging, entertaining tone throughout.
Fear: A bit dark, we know, but a really, really effective marketing strategy.Convince your reader they'll be ripped off by buying elsewhere, or that they'll make the wrong decision without your expert guidance.Making bad choices is an innate human fear.For instance—we know your website content will be no good at all and earn you no money if you don't keep reading this guide. Sorry!
Interestingly, when split-testing these approaches, Matt found that the humorous angle had the best effect on engagement, which is a surprising outcome in marketing terms.
It's crucial to split-test these yourself to find the best tone for YOUR business, though.
Consider your business type and audience. Like, do NOT adopt a jokey approach if you're a funeral director. Probably not the fear one either…
Subheadings
Next up are your subheadings—your H2s, H3s, and so on.
These break your content up into digestible chunks.
It should go without saying that your subheadings need to be smart, snappy, and eye-catching enough to keep your reader reading until they feel informed enough to make a purchase.
Subheadings are the layers of icing in your delectable content cake.
Keep them frequent but brief!
Use some of our favorite subheading tactics:
Rule of three: If you can, summarize your service in three simple steps, showing your customer how easy the process will be (back to our launderette example— 'Drop, Wash, Collect').
Sensationalism: Don't be afraid to glamorize and dress things up a bit ('The Quickest Spin in Houston').
Puns/play on words: Everyone loves a witty one-liner. If you can work some into your webpage, go for it. I can't quite pluck an example off the top of my head for a launderette in Houston. There's definitely something to be made from "clothes wash" and "Washington" if anyone wants to have a go…
Great subheadings in action:
Monzo: Check out how they've stuck to the ever-effective rule of three.

Dropbox Business: Hey, remember the 'fear' factor that we spoke about earlier when we were discussing Intros? Well, it's back, being used in this subheading for Dropbox Business, preying on people's fear of online data insecurity. AND it's cleverly combined with that golden rule of three. (You'll be seeing that a lot.)


The BBC: Here's the British Broadcasting Corporation spreading some much-needed cheer across their homepage! Once again—would you believe it?—there's three items there.


Hulu: The online TV service highlights their massive offering of shows and films and underscores the sensational ability for viewers to use their service everywhere. It's simple but effective.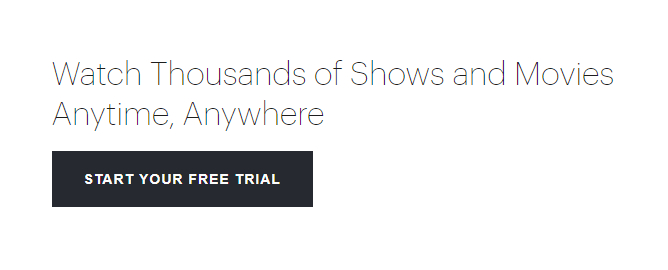 Domino's Pizza: This subheading/CTA-combo makes a cheeky pun out of a lunchtime treat. What's not included in this ad—should you take up Dominos' offer—is your colleagues hanging around like vultures hoping you'll offer them a slice.


Overall—make your subheadings short, sassy, and perhaps even shocking. You could also throw in some alliteration.
Core Content
So now, you've got your headlines, intro, and subheads down to a fine art.
Your content cake is looking great, but don't forget that what's inside also counts.
If someone takes a bite of your beautiful cake to find crumbly flavorless sponge inside, they're going elsewhere for dessert.
In this instance, the gross sponge is analogous to poor core content.
The body of your content must be just as good as your site's exterior.
Here are some tips for tasty content:
Avoid big words: Take a lesson from George Orwell, who said: "Never use a long word where a short one will do." Save the big words for your novel. (We'll expand upon why you should do this in the Reviews section.)
Break up paragraphs: Make them as short as you can. Like 2-3 sentences short.
Use loads of subheadings: Keep things bite-sized. Add a new subhead for every part of your service—or the topic you're exploring—that you want the reader to know about.
Include relevant media: Original photographs, graphics, and infographics are amazing for engagement. Well worth hiring a designer for. Avoid tacky stock images wherever possible.
Press play: Got something too difficult or time-consuming to explain through text? Make a video! People would MUCH rather listen and engage with visuals than read a wall of text.
Emphasize important words/phrases: Tastefully sprinkle some bold, italics and underlines on top. Draw the reader's eye to the essential info.
Following these suggestions will keep your readers interested right down to the CTA —the bit where, by now, you've convinced them to give you their money.
Go get 'em, son!
Call to Action
Now for the juicy bit… the cherry atop the cake.
A CTA button is what you typically click once a company has convinced you to sign up for their mailing list, learn more about their service, or buy their product.
When you confirm your interest in their website, you press that button.
Go on, have a look at some of your favorite sites—check out how many buttons with little commands they have.
Spoiler alert: LOADS.
Get people clicking your buttons by getting down with the CTA lingo below:
The command must be short. (A running theme for homepage content. Learn it.)
Said command must be set in a clickable button.
Use an intriguing shape, effect, or color for that clickable button that makes it stand out clearly from the rest of the page. Make it a focal point, but make it subtle
'Sign up' and 'Buy now' are BORING. We know you can be more creative than that.
Try some of these CTAs on for size:
Sign Up For free: Everyone loves something for nothing.
Get Started: This is just the beginning of our journey together.
Get Access: Who, me? Am I a VIP now?
Give It A Try: Dare you.
Send me _____ now: More free stuff.
Discover: A whole new world awaits.
Continue: There's loads more to come.
Let's Start: We're going to show you what's what.
Browse Now: No strings attached.
View Collection: Again, invite customers to peruse – no pressure. Also, it sounds fancy.
Now that you've got that, I need to break something to you…
CTAs aren't always buttons.
Sorry!
This stuff is CONFUSING, I know.
They can also take the form of a phrase—usually at the end of a paragraph or sentence—urging the reader to take further action.
This quick article by Rachel Mazza on writing CTAs for conversion has some fantastic tips about what customers typically react best to, and how to improve your calls to action.
CTAs are a science. People who bang on about effective ones aren't overthinking it— they've probably been in the business of trialing and testing new techniques for years.
The language you choose for your CTA—and the way it strikes the eye on the page— make ALL the difference.
Some impressive CTAs in action
A Little Bit of Something: Perfectly illustrating the point about not-all-CTAs-being-buttons, this lengthy CTA is hailed by SEOButler founder Jonathan as his favorite of all time.
It's the perfect anti-CTA—telling the reader in no uncertain terms what they SHOULDN'T do—but giving them plentiful alternative options.
The subtle button at the bottom ensures all eyes are on this web design agency's heartfelt plea that you absolutely do not call them.


Spotify: Free? For everyone? Sign me up! As we said, nobody can resist a freebie. If you're offering something—anything at all—at no cost, make sure your reader knows it.


Uber: This CTA is cashing in on Uber's USP—request a ride now, have it pull up outside in minus five minutes. It's as simple as entering your current location and desired destination. Gone are the days of calling a local taxi firm for them to tell you it's gonna be half an hour.

Nobody's Child: This is one of those pop-up CTAs that ask you to exchange your email address for a coupon towards your first order.
Simple and effective, with something in it for both parties.
ALWAYS make the benefit to the reader the focal point, with a big fat capitalization of what's on offer.

Deliveroo: Sometimes, it's not just about the words. Making their partnership seem as appetizing as a share-box of Krispy Kremes, Deliveroo kindly offers to take on the task of food delivery for restaurants so they can make more money for less effort.
Who can resist clicking the button after that delectable display?

If you're interested in knowing the scientific how's and why's of CTA-emistry, check out this long-read on CTA psychology by Neil Patel.
Meta Descriptions
A meta description is a short (typically 135-156 characters, including spaces) snippet that gives a little more info on what your page is about; and is only shown on Google search results. Like this:

A meta description is intended to persuade the reader to click on your link over the rest listed by Google. Be descriptive, make it sound exciting, and ensure that the reader knows they'll get value by clicking to read more.
The example above maximizes its limited character count to describe the entire organization. It makes some bold claims about being really popular and boasts about how many cool animals it has.
Do the same for your website! Pick out the attributes of your business/site that you're most proud of and display them for everyone on Google to see.
Reviews
We don't mean testimonials. (Although you definitely need some of those too. We'll go into testimonials in more detail in the guide's Affiliate section.)
Once you've assembled all your content—and think it all reads and looks great…
DO NOT PRESS PUBLISH!
You're not done quite yet.
Before anything goes live, you need to put it through our favorite writing review tools: Readable and Copyscape.
Readable measures the readability of your text. According to the Flesch-Kincaid scoring system, your writing should be Grade 8-level. This score indicates 80% of Americans can read the text with ease. Keep in mind once again what our old friend George Orwell said about never using a long word where a short one will do. You're not writing your college thesis.Readable uses several scales—including the Flesch-Kincaid system—to determine your readability score, as well as keyword density; whether your tone is positive or negative; if the piece is in the active or passive voice; and more. It even gives you a cute A, B, C school-report score. (After reading this Guide, we expect you to be scoring straight A's, or you're grounded.)
Copyscape is essential. You won't boost your search engine ranking with duplicate content. In fact, you may do it substantial harm. Not to mention the embarrassment and potential legal ramifications that go along with publishing someone else's work without permission. This tool checks your content for any direct matches across the web, ensuring everything you've written is as original as can be. When it is, Google will love it and send more visitors your way. Woop.
With all this said and done, you're free to release your webpage into the wild, giving it a head-start to reaching page one on Google.
Or, as per our cake analogy, it will be the content equivalent to a winning creation on The Great British Bake Off.
If you don't entirely trust your baking skills yet, leave it to us—we've been doing it for years.
Get down to the SEOButler Content page and place an order now!
Blog Posts

Wondering why your website even needs a blog?
Great question!
Let's start with what a blog is not for:
Journaling: It is not a place for your 'Dear Diary…' miseries and spilling the ins-and-outs of your business or personal life with visitors. Although a well thought-out rant has its place!
It's not somewhere you can copy and paste great articles you found on the web. That's plagiarism AND duplicated content—a big no-no.
Chucking some rushed, random posts on there every once in a while for ranking purposes, assuming that no one reads it. They do, and bad grammar/irrelevant rambles impress nobody.
Want to know what makes an excellent blog topic?
Skip to Blog Ideas near the end of this section.
BUT, you should read the whole guide if you want to update your site regularly with valuable content. (Or maybe even become a career blogger. Reach for the stars!)
Now. If you're saying—"What's the big deal with regularly updating site content? Don't I just create a bangin' website and leave it at that?"—we owe you a quick explanation here.
If your site sits, unchanged, for an extended period—yes, even if all the information on it is relevant and hasn't changed—Google sees it as stagnant. Not much going on. Nothing to write home about. Therefore, it stays put in its SERP ranking and may even drop lower.
Google values sites that are continuously moving, improving, and adding new things to attract new visitors. The best way to do this is to regularly add blog posts—a quick and easy fix with significant SEO gains. That way, you don't have to touch other pages of your site that are perfect and need no changing.
Two types of websites benefit most from blog articles:
Blog Sites: Sites in which the main content is blogs. Sites by fashion bloggers, SEO bloggers, tech bloggers, etcetera.
Business Sites: Sites that promote a business. A blog is just one small but integral part of that. The blog is there to add bonus value and authority for customers (as well as for SEO reasons).
While dedicated blog sites obviously make it their mission to update regularly, business sites sometimes forget about the importance of this, as they're (understandably) focusing on business-stuff.
Some businesses don't even have a blog page!
I despair, honestly!
When writing blog posts, be clear on which of the two types of sites they'll be published on.
For business site blog posts, for instance, you'll probably want to plug that business somewhere in the post, depending on the topic. Always know your audience and tone—you'll need to adapt these to the site in question.
Before we get down to the writing, you need to know that blog posts operate by a different set of rules to homepages, and indeed any other form of content.
If you have your sights set on being a pro writer, you need to know all those differences.
Which is, duh, why this guide exists!
Below, we show you how to tailor titles, content, and more, specifically for blogging.
Titles
Not to be confused with homepage headers.
Usually, the main contents page will show only each blog post's title and a pic—OR both of those—plus either a quick synopsis of the article or the first few lines of text within it.
Like this from women's clothing store Topshop's blog:


So, your title needs to be catchy and make people click through to the full blog. (Also: see that big 'Continue Reading' CTA there?)
Blog titles can draw upon:
Tasteful clickbait: Shock-factor words like Unexpected; Surprising; Shocking.
Listicles: Readers are more likely to click if they know they'll be able to skim a list of, say, 7 facts. 7 sounds manageable.
Lessons to be learned: Usually, you read to learn something you didn't know before. Correct? Well, make it clear your reader will get the same from you. Thus, it's crucial to be original and unique when coming up with titles.
If you're thinking,
Why should I spend time crafting a title when the best stuff is in the actual article?
Because, dear friend, for every ten people who read the title, only two click-through to read what you have to say.
Indeed: 80% of people don't read your content.
Up your chances by luring them in with a hard-hitting headline.
Learn more shocking facts about titles and headlines in this fascinating Copyblogger article.
Introduction
You know the score here by now—there isn't much to add about writing intros apart from what we covered in the previous section.
Of course, blogs can have a much more conversational tone than home/landing pages, the primary purpose of which is to sell.
With blogs, an informative and entertaining approach is the ticket.
Don't forget the three catch-all intro themes. Ten points if you can remember them from last time. NO PEEKING.
Okay, okay. For the goldfish out there, those were:
Facts and stats
Jokey and fun
Shocks and scaremongering: "New research has shown that overfeeding your goldfish could turn them into a shark—yes, really! The Institute of Sharkology released a statement this morning…"
Catch your readers with great bait (AKA your first line).
Get 'em on the hook.
Then reel them in!
Subheadings
You thought subheadings weren't necessary for blog posts? Get real!
Here's a fun fact: ALL online writing needs subheadings.
The fickle nature of reading stuff on the internet means that your reader is simply going to switch tabs if your blog is snooze-worthy. Big blocks of text induce snooze.
In fact, some stats suggest that our attention spans are now shorter than that of the average goldfish…
So, use subheadings to break your text down for readers. Show them at a glance whether the rest of your article is going to be of interest to them.
Take this for example:


If I'm reading a blog about current housing market trends, I probably want to see info about:
How much money can I borrow for a mortgage?
Will my house worth will be affected?
What might happen next?
I'll keep reading if the subheads I read at a glance look relevant.
If those subheadings weren't there, I probably wouldn't bother skimming all that text to see if it told me what I want to know.
The takeaway: Add subheadings for each distinct point you make, bold/italicize/underline them, and press that return key.
Now.
Core Content
If you're writing a blog, you probably know what you want to write about.
But did you know to include THIS stuff?
Add authority links. (I've added an authority link here about why you should add authority links. You're welcome.) In a nutshell, you should do this so that:
Your reader knows you've done the research and not made the whole thing up.
It's good for SEO. Read the authority-linked authority link above to know why.
Related to the above—let's talk about quotes. These can be incredibly useful in bolstering the authority of your writing, and gain you bonus points for conducting proper research. HOWEVER, if you've ever learned a thing or two about SEO, you might ask the same question I did: Won't that count as duplicated content?Say you include a quote from Stephen Hawking in your post. Popular quotes like those from the late, great Professor Hawking will appear on hundreds of pages, articles, and blogs all over the web. They are thus highly likely to be flagged by any plagiarism-checking software you're using.Does this then mean you should shy away from using them?The verdict is: not necessarily.Quoting authoritative sources is likely something that Google will look upon favorably. Make sure you always either add a link to the source that you copied the quote from, or at least credit Professor Hawking himself.It's not cool to use his words without attribution!

Throw in some quality media. Original photos, videos, graphics. You know the drill.
Add some interactive media. Everyone loves a poll: if you're web-literate and know how to add a survey to the bottom of your blog, you've won in two ways:

People LOVE to air their opinions, so by using a headline like "POLL: What's Better, ___ or ___?" I can guarantee you at least ONE click.
It's a fantastic free way to get some easy feedback on your business idea, product, etc.
A quick note about facts and statistics.When you include them, you don't HAVE to add a link to where you found it if that messes up your SEO.
What you DO need to do is credit the source.
E.g., "According to NHS figures, $1 billion was spent on ____ in 2017."
The reader now believes you know your stuff.
You were taught at school to back up your claims in essays, right?
And if you went to university, you'll surely know that you get a big, fat 0% if you haven't cited authoritative, relevant sources in your assignments.
Writing authoritative and trustworthy blog posts is no different!
I know you graduated a long time ago, but you've still gotta do it.
Besides all that, you should just—y'know—write really well (easier said than done, we know!)
At a bare minimum, have someone proofread it or use a tool like Grammarly, and score it with Readable.
If you can't write well, or don't have the time—or simply because we're so good at what we do—you can always order some top-notch blog posts from SEOButler.
Our university-educated, superstar team of US and UK writers can do ALL this stuff for you—yup, everything we've talked about thus far.
They've all been trained in the fine art of prose and research, and have the degrees to prove it.
Want thesis-level blog posts? You know who to call.
And yes, we run all our content through Readable and Copyscape. They're built right into our infrastructure. But only after it's been written and twice-proofed in-house, to your exact specifications.
Neat, if we may say so.
Meta Descriptions
When writing your little meta description snippet for a specific post (the bit that advertises it on Google search results), focus on summarizing the post's content while making it click-worthy; this is in addition to its already-click-worthy title.
See the example below:

Look! In the above example, they used a fact. Makes you want to know more, no?
Meta descriptions are usually between 135-156 characters.
See how "orchids" is bolded in that meta? That's a keyword.
You should include your targeted keyword in your meta for the best effect. Learn more about keywords in the How to SEO Optimize Everything section.
Write metas for ALL your pages to grab more traffic from searches.
Blog Ideas
Now we've covered the how, here are some tips for those wrestling with the what.
Check out some fail-safe topic ideas below:
Newsjack: A common practice for online publications. Essentially, keep up with news and current affairs in your industry, and when something interesting happens, write your own piece on the subject. Link out to authority articles about it, saying why you agree or disagree with it, and how it impacts your business and others like it.
Announce: Show off new products, updates, and services within your business.
How-To Guides: Provide extra value content associated with your product or service that your customers will appreciate.
Listicles: Channel your inner Buzzfeed writer. Numbered listicles are super quick and easy, and people love them.
Accept Guest Posts: Tell everyone you're accepting GPs from authorities in your field on topics your customers are interested in. Or, you can do outreach asking for submissions.
Interviews: Conduct interesting and original Q&As with people who hold authority in your field.
If you're reeeeally stuck, taking a sneak peek at the topics your competitors are posting on never hurts. (Only take inspo here, and never plagiarize! It's also not smart to rehash something they posted like a day ago, unless it's big industry news.)
Get creative and keep it relevant!
PRO TIP: Your blog posts should be between 500-2000 words long. 
BONUS PRO TIP: Make your articles readily social-media-shareable for added SEO kudos.
How Often Should I Post on My Blog?
Great question! About once a week should do nicely.
However, we know business owners like yourself are EXTREMELY busy, so writing a blog is likely to be towards the bottom of your priority list.
So, here are some ideas for posting high-quality blog content frequently, without spending a bunch of time on it.
Read this post about writing content fast. It contains a number of tips on how to produce sound content quickly.
Write 'roundup' posts like our 50+ Business Tools You Should Be Using Quick explainers of stuff you already know about shouldn't take long, and they'll be valuable for a reader who wants to know your tricks.
Again, call out for some guest posts—or, hire someone to write blogs for you! Do you know who can do that, BTW? Us! Tell us what you want here.
Want to know more about this guest posting malarkey?
Well, that just so happens to be our next section!
[cta]
Guest Posts
For the purposes of this section, we're going to assume you want to write some solid guest posts to place on high-authority sites.
Let's get back to basics and talk about guest posting fundamentals. There are two primary purposes for guest posting:
In purely blogging terms, guest posting is writing a blog or article for someone else's site. It's a way to get your name out there to a wider relevant audience and promote yourself as a writer. You could gain exposure and connections.
In SEO terms, you get all of the above, but you also add valuable backlinks to your (or a client's) site. In the complex realm of SEO, many people write guest posts just to build links.
Essentially, guest posts (GP) differ from blog posts only in that you write them for someone else's site rather than your own, and they can be used to link-build.
We'll cover link-building in the How to SEO Optimize Everything section of this guide.
But we're getting ahead of ourselves!
Here, we're going to focus on how to write a great guest post. So, buckle up and get ready for some learns.
Important Notice!
Before we begin, we just wanna say that the time and effort spent on writing GPs should depend on where on the web you want to place them.
If you want a "mom blog" with an average Domain Authority (DA) to publish it, you could probably write one up in half an hour, if you know your topic well in the first place.
But, if you're an aspiring marketing professional and you want to get it published on a big-dog marketing authority site run by industry leaders: You need to do some thorough research.
We'll include a segment at the end of this section called How to Guest Post.
Just for you.
NOW—onto our Top 6 Expert Guest Posting Tips!
(Yes, we called ourselves experts there. We do a lot of GPs.)
GP Titles
This old chestnut again!
A GP title is much closer to a blog title (or headline) than a webpage header.
As such, they pretty much follow the same rules as blog post titles, since they are simply a blog post that you write for someone else.
But in the case of GPs, it's not only your readership you need to convince to read it: it's the target website owner.
They typically won't publish a rubbish post on their beloved site—often even if you pay them…
Here are our guest posting title top tips:
Subtle Clickbait: Less: "You'll Never Believe This Trick to Get Your Baby to Sleep!" More: "5 Fail-Safe Secrets to Soothe Your Baby to Sleep." The former sounds spammy.
Listicle Format: Use bite-sized, numbered points that your reader can skim easily. They're busy too, you know.
"How to…" This conveys that your post will set out some useful, actionable steps for learning something new.
The essential point is to be descriptive and relevant.
A GP isn't a magazine article, where the reader sees all the accompanying text, pictures, and formatting all at once. Mag articles can get away with titles like 'I Finally Got My Dream Job!' accompanied by a photo of a new Victoria's Secret Angel, and that readership would flock to read it.
But YOU can't do that, guest poster. If you used that as a GP title, you could be talking about far less glamorous jobs like a headteacher or construction site manager. How is anyone to know? They don't want to click and take that risk!
GP titles might pop up on Google or a blog contents page, so readers might ONLY see the title at first. No pics, perhaps even no meta description. Your title has to sum up what's inside while simultaneously making them click.
None of this has to be super tough.
Going back to the job example: if you WERE writing a GP about becoming a Victoria's Secret Angel, you'd want to title it something like "How I Landed My Job as a Victoria's Secret Angel."
I want to know that. I'd click that right now.
Of course, not many of us have a hope of becoming a VS Angel, but we all want to bag great jobs. This title tells the reader there could be some transferable wisdom in there.
If you were writing about how to become a headteacher, try something that gives value to people in that position, like "7 Steps Teachers Take to Top the Career Ladder."
This signals there will be some bite-sized, useful info within: For teachers who want a promotion—from those who have done it.
PHEW. Hope you got all that.
Introduction
If you read our previous sections, introductions are second nature to you now, right?
If you did, here's some revision.
If not, don't worry. We got you.
Your main concerns here are to…
Hit the reader with a fact: Literally in the first line. Tell them something they didn't know, so you seem like a beacon of wisdom and authority. Go straight in like "Did you know the average garden slug can live up to SIX YEARS?"I know you're probably not writing a GP about slugs, but I DO know you didn't know that.
Be funny: Release your inner clown—your reader will keep reading if they like you.
Scare tactics: This will fit more if you use titles like "11 Things You Should NEVER Do in a Job Interview."
Your first lines could be: "Worldwide job study shows 87% of interviewees get rejected for failing to shake the boss's hand. Something as simple as this could get you blacklisted from an organization forever – so check out these HUGE don'ts before your important interview…"
Note: I made that interview fact up, but DO NOT fabricate stats in your writing. Get real ones from real sources, and always link or credit them. In this case, you would link 'Worldwide job study' to the page where you read that study.
That slug fact is true though.
Subheadings
BREAK UP YOUR TEXT WITH SUBHEADINGS WHEN YOU MOVE ONTO A NEW SUBJECT.
That's all I have to say.
Core Content
This is the bit where you write what you wanna write.
Other than the actual writing, you just need to make it grammatically correct and engaging, with short paragraphs, credited facts, and some fresh media.
Your core content is also the part to add a link back to your site, if that's one of your GP goals.
Find out more about that in our How to SEO Optimize Everything section.
Read back to the Core Content segment in the Blog Posts section of this guide for more hints and tips!
How to Guest Post
Now we've covered the various writing segments, let's discuss how to get your GPs published on great websites.
Research where or by whom you want to be published: If you've got an idol in your field—someone you want to build a rapport with— then how better to start a business connection than by expressing an interest in writing for their site? Do it!
Introduce yourself and explain why you've chosen to contact the blog: First, tell them what you do, and why you follow their work. It never hurts to throw in a small compliment—like you loved that piece they wrote on such-and-such. Praise helps show you're invested in their work, rather than just sniffing around for some free promotion.
Have a subject for a great article in mind that would fit their blog before you contact the person/website: You're essentially making a pitch for a story as you might to a magazine or news editor.
Outline your article idea in your email. Or, attach it for review if you've already written it.If you write the article BEFORE contacting them, make sure it's tailored to match its existing content. E.g., don't use a listicle format if the blog never posts those.Adopt the tone and style the blog normally uses—whether that's serious; pragmatic; humorous; long sentences; short sentences; etc.And OBVIOUSLY, write on a topic relevant to their field.ALSO, check if the blog has a list of guidelines for GP submissions.
Wait for a response: If you don't hear within a week, it's safe to say they're probably not interested, (though it never hurts to follow up.)In that case, you have three options:
If you haven't written the article, no sweat. You can pitch your idea to someone else in that industry and write it in their style.
If you have written the article, you can still pitch it to other relevant sites, but edit it to match their style and tone.
If nobody bites, self-publish it on your own blog and promote it yourself. Remember, you're your own biggest fan. Go team!
If they say, "Why yes, how brilliant! Send it over!"—Get writing!
Send it ASAP.
If they request some edits, no biggie. A few edits are nothing compared to the promo and pride you'll get when you see it published.
We see your mind still ticking over with questions about GPs—so we've included a quick FAQ guide below.
Guest Posting FAQs
Do I need to pay to publish GPs?
Sometimes yes, sometimes no.
Often, you will need to pay to publish GPs written for SEO that contain links to your or a client's site. In this case, it's a transaction where they get paid for helping you build links, so it's a fair exchange.
If your post doesn't contain links, you might still need to pay for the privilege of promoting yourself.
Many sites won't charge you for high-quality, engaging, relevant posts, though.
Some might even pay YOU if you offer your writing services on a freelance basis. Although at that point, it isn't really guest posting anymore—more being paid to blog for them.
Find out what the deal is before sending your work.
Read about backlinks in our SEO How-To section!
How long should a GP be?
Minimum 500 words—your best bet is between that and 800.
Check your target site for any GP guidelines they might have; many have a minimum (or maximum) word-count.
(When you order GPs from SEOButler, we write 600 words minimum.)
How do GPs help with SEO?
That's a great question.
The way to boost YOUR site's SEO by guest posting on someone else's website is by adding an inbound link (or backlink) to your site (or a client's) in the text of the post.
When a site with good authority links back to your website, Google thinks you're popular and cool people are talking about you. It's like a virtual recommendation.
Backlinks influence search engine algorithms to place your site higher in the search rankings. The ultimate rank you should aim for is the #1 search result—where you're crowned the most popular kid on Google for your targeted keywords.
And, in case you didn't know, if your site is a #1 Google result (or at least on the first search results page), you get THE MOST traffic.
Traffic = Sales!
SEO is a complicated business, but guest posting is an excellent place to start.
For more on guest posting and all the other stuff, talk to SEOButler, and we'll sort EVERYTHING out for you.
Skip to How to SEO Optimise Everything for more search engine chat!
What does SEOButler's Guest Posting service entail?
Glad you asked!
We write GPs, keyword-optimized with your links included, and distribute them to our massive database of GP-accepting, high-authority websites relevant to your niche.
Our brilliant writers are all native English-speaking college and university graduates, and all content goes through multiple steps of quality control.
You get guaranteed perfect, original posts every time.
The price of GPs you order will depend on the Domain Authority, traffic, and niche of your chosen site.
Head straight to our Guest Post order page to get great GPs ASAP!
Affiliate Sites and Buyer's Guides
The affiliate marketing game is lucrative for those who do it well…
But to do it well, you need really solid content.
If you're wondering: What are affiliate sites and buyer's guides? And why do I need super-amazing content for them?
Stay on the line, and I'll explain.
What Is an Affiliate Site?
Affiliate sites are run by people participating in affiliate programs, such as Amazon Associates.
Typically, this means that they operate a website that reviews products and talks about their uses; their features; pros and cons; etc.
They link to the product in question, and if a reader purchases that product using the site's link, the affiliate website owner gets a commission.

(Source: Big Commerce)
In theory, you:
Build a content site which directs consumers to products
Sit back and relax
Watch as the commissions roll in
Sounds peachy keen, right?
If you want in, though, you need outstanding content.
Why?
Because you'll never sell anything through your affiliate site if you haven't used hyped-up, conversion-ready content.
Nobody buys anything online unless they're persuaded through carefully crafted, sales-driven prose.
The crafting part is essential for making the sales-driven part not overly obvious.
Confused? Sorry! Just keep reading!
When discussing affiliate sites, the internet loves to use Money Saving Expert (MSE) as a prime example.
MSE is one of the best-known affiliate sites in the UK, not least because the founder is a TV financial expert.
MSE actually delivers amazingly helpful, accurate information on a wide spectrum of money issues, from mortgages to phone contracts.
The site is dedicated to delivering truly valuable information for anyone who spends money (AKA EVERYONE!) NOT the fact that the person behind it is getting a commission from sales made through it.

We're going to use this site as an example for all the reasons above, PLUS these:
Good website design (a bit crowded, but OK)
Easy to navigate with clear categories
Heavily researched to find the best new financial info in the UK
Interactive tools, like the Income Tax Calculator
Brings value to the reader with expert advice and freebies
Very detailed and informative buyers' guides
New/updated content practically every day
Obviously, some of this is high-level stuff that you may be doing early on in your affiliate business.
Also, there is clearly a massive team behind this site, not just the one guy.
But, you'd be wise to follow MSE's lead when thinking about your own affiliate site.
It's a tried and tested winner, after all.
No idea how to start building authority in your affiliate niche? Don't cry!
Check out all our know-how down below!
Affiliate Reviews
The bread-and-butter of affiliate sites is reviews. People want to know what kind of product they're getting before they part with their hard-earned cash. Readers are asking: "Is it good value?"
"Does it have cool features that similar products don't?"
"Does it fit my requirements in terms of size, material, usability, etc.?"
If you're looking to muscle into the affiliate biz, you need to become an authority about your reviewed products.
In any case, to begin, you need to pick your products.
If you're using Amazon Associates, you simply pick out any product on Amazon.
You have to choose wisely, though. Some products will gain you next to no commission and won't be worth the time and money spent building a site.
See this guide to profitable niches for some direction.
Here's another handy guide to being an Amazon Associate.
But now, for example, say you're building an affiliate site based around pool floats.
You should choose a diverse range of brands, shapes, sizes, and prices, so you have a better chance of capturing what the customer is looking for and making a sale through your links.

Once you've chosen your products—we recommend at least five—and are ready to write your reviews, bear in mind these golden rules.
Get educated: To write a useful review, you need to have first-hand knowledge of the product; or as good as.If you've never used the product in question, you should look up reviews of the SAME product from various sources on the web to get a well-rounded perspective.Besides Amazon, try YouTube, blogs, and even Instagram (type the product name into the search bar) to see what people are saying.
Don't copy other people's reviews: Make your review your own original opinion. You know better by now than to copy and paste on the internet and get your site penalized by Google, champ.
Write objectively: Don't transparently hype the product that can make you the most money. As you're pitting the features of different products against each other—but can potentially make money from all of them—you need to appear somewhat impartial.By all means, point out the slight drawbacks of each, but don't display overt favor for or against your affiliate products.A furniture salesperson on commission wouldn't start badmouthing a sofa their client shows interest in.Nor would they show wild enthusiasm for the most expensive one… don't be so obvious!
Avoid overt sales language: Again, you might think this kinda defeats the purpose. But your site is meant to convey to the reader that you're giving an honest, impartial review in their best interests; not that you're making a hard sell for them to buy the product.
Remember to remain balanced, but highlight why it's a good purchase.
Focus on the USP. Find the unique selling point (USP) of each product. Then focus on its benefit to the buyer as the central point of your review.
To help you further, here's a basic and brief structure you can use for each product on your affiliate site's homepage:
Product name
Image
Features overview
Unique selling point (and its benefit to the buyer)
Pros
Cons
Rating
CTA link to a full review page for each product (an excellent idea to do)
CTA link to buy the product (check back to our big CTA segment to make sure you nail it)
Don't forget to apply those golden rules throughout!
Testimonials
Clinch the sale with a testimonial—they can make all the difference.
Would you buy something you've never seen, held, or heard anything about?
Me neither!
The internet's way of filling this glaring pot-hole is to feature customer reviews and testimonials.
This article from Forbes offers some incredible statistics about just how much consumers are influenced by online reviews, including the 84% of us trust internet reviews as much as a word-of-mouth recommendation. Damn!
Here in the SEOButler office, we admit to looking at all the reviews we can before making a purchase, whether it's big or small.
With this in mind, go forth and secure some great testimonials to help you on your way to making big sales.
Here's our advice for you on this topic:
The best way to secure a positive testimonial for your website or product is to request one from a loyal customer who has actually used and enjoyed the product/service you're affiliated with. Get their approval before publishing their name, photo, and comments.
Don't be tempted to write fake reviews. This helps nobody and will only come back to bite you later when a customer complains that what they bought was not what they expected, or they bought it based on false claims. Ultimately, this will damage your reputation and do more harm than good.
In a similar vein, don't copy and paste reviews you found elsewhere on the web onto your site—you know by now this is terrible SEO practice. If you have to do this, be sure to paraphrase.
Testimonials for affiliate sites are admittedly challenging to secure, but they're well worth going after. The stats don't lie. An overwhelming majority of consumers look for them before buying a new product for the first time.
Pro Tip: Testimonials should typically go in the 'full review' page for each product. What, you don't have any of those? Get them! Hurry! (See how below)
Other Forms of Affiliate Content
To accompany your reviews, you could offer your readers additional content to provide value from your site and promote your authority status.
A good affiliate site should basically function the same as any other site; this means you need a great homepage, some solid blog posts and—it should go without saying— make it look nice!
An affiliate site homepage should address the reason your reader came there. Are they looking for a fun pool float in the shape of a unicorn for their kids? Or just something to lounge in on at the beach?Let them know your site will show them all their options and provide everything they need to know to make the best choice.
As previously mentioned, full-page reviews are certainly something to consider. Make a new webpage for each product and write an in-depth analysis (or even add a video reviewing and demonstrating them), complete with those testimonials we talked about. Link to these from your mini product reviews in your buyer's guide.
Write some blog posts to complement the products you're promoting. Money Saving Expert features blogs about when to exchange money before a holiday, and how not to get ripped off by pharmaceutical companies. Anything to do with money and what people need, they have it.Your pool float blog posts could be The Best Beach Games to Play This Summer and Steal Celebs' Instagram Pool Style with These Floats! 
Psst—SEOButler offers a blog-writing service.
In fact, we can write ALL your affiliate content for you, if you don't have time for that and just want your commission!
Let us handle all the technicalities of writing brilliant conversion content. Order your affiliate content here.
Buyer's Guides
Having a great buyer's guide could clinch your sale. It's where you get to show off your knowledge about the products and how they relate to all different types of buyers.
With a little SEOButler guidance, you can write an ace buyer's guide and make some extra dough on top of your monthly earnings.
Want to start your side hustle? Read on!
Item A on the agenda: What is a buyer's guide?
A buyer's guide showcases all the added-value stuff that should accompany your reviews.
Going back to our previous example, imagine that your readers know absolutely nothing about pool floats—apart from the fact that they float in pools.
Assume they don't know they can be made from different materials, that there are various ways to inflate them, and that you can also use them in the ocean.
Imagine that YOU are the one who gets to break this fantastic news to them!
It's a big responsibility, but I know you can handle it.
Firstly, ask yourself the questions a prospective pool float-owner would be asking themselves. They might want to know…
How long they take to inflate
If they're suitable for small children
Why pool floats are a great purchase
…and more.
Then, think about your different reader demographics. You might want to write about the best pool floats for…
Children under ten years old
Getting the best Insta-pics (think Taylor Swift, supermodels, and the Kardashians sparking a worldwide trend for flamingo and swan-shaped floats)
Small pools
Taking to the beach
You'll also want to think about why you're recommending these floats for these reasons.
Floats appropriate for little kids will be brightly-colored but safe for their use; whereas products suitable for taking to the beach might be fun to play with in the waves and double up as a comfy sun-lounger on the shore.
All this extra information assures the reader you know what's best and maybe gives them ideas they hadn't thought of before.
Doing this convinces them of your authority and leads them to trust your advice – and that's how you make a sale. Cha-ching.
Ready to dive in at the deep end with your affiliate site?
Get in touch to find out how we can help you with all things affiliate: your homepage, reviews, buyer's guides, and all.
Know what you want to order?
Have a browse of our content type section (luckily it's the next one!) to clear up which of our formats best fit your project!
SEOButler's Content Products Explained
Decided you don't have the time to write tons of amazing, conversion-based, fully optimized content?
Can't say I blame you.
Luckily, that's a massive part of what SEOButler does.
In fact, we do it 365 days a year.
But, being the savvy consumer you are, you probably want to know what you can expect from our content products and packages.
So, let's break it down.
If you're already an SEOButler customer, you may recall that we used to offer content based on a 3, 4 and 5-star system.
And it worked!
But recently, we decided that good wasn't good enough.
So we completely revamped the way we sell content to make it more intuitive and more relevant to the way you purchase our products.
Even better, you get consistent, high-quality content at the same price or even less than what it used to cost under the old system.
You heard that right…
SEOButler is offering you improved quality at an equal or lower price.
Good deal, no?
You can read all about how we completely revamped and streamlined our processes here.
For now, here are the highlights:
Bespoke Writer Management System
If you've been reading from the top, it'll come as no surprise that we're big fans of Readable and Copyscape (if not, read more here).
Really big fans…
So much so, in fact, that we baked both right into our proprietary Writer Management System (WMS).
The Copyscape integration means that any duplicate content is weeded out and rejected from the jump—guaranteeing 100% certified-fresh content every time.
We want the content we deliver to you to engage the widest possible audience.
We built Readable into our WMS to ensure your content won't go over your audience's head.

Improved Recruiting
We've made our hiring requirements for writers even more stringent.
From the start, you had to be college-educated and live in the UK or North America to even get your foot in the door of the SEOButler writer's room.
Now, before we even consider a candidate, they must meet each of the following requirements to be considered for the team:
Native English speaker
College-educated (ideally in an English/Arts/Marketing concentration)
Minimum of 3000-word availability per week
30-Question quiz of writer training site and SOPs
Written samples of published work
Produce an original piece of content—on a topic selected by SEOButler—which lives up to our exacting specifications
Enhanced Training
We hold our writers to a very high standard.
To do that, we need to give them the tools to succeed.
Our proprietary writer training website features:
Pre-Written Samples
Video Tutorials
Detailed Explainers on Each Content-Type
Content by Type, Not by Tier
All of these changes (and many more behind-the-scenes) mean we're now able to offer you impeccable quality for every content type.
No more pondering what tier of content to order.
Just add one of the following content types to your cart, and you're good to go:

Sold? Head on over here to place an order.
Need something off the menu? We'd love to hear about it.
"But SEOButler… I need a ton of content, fast!"
Don't stress!
We love bulk content orders.
We love them so much so that we'll give you a 10% discount when you order 5,000 words or more.
Still not enough? For orders of 10,000 words or more, we'll get back to you with a custom quote.
That's right—personalized, just for you.
Need top-quality, SEO-smart content that converts?
(And, let's face it, who doesn't?)
Head on over to our brand spanking new content page now!
How to SEO Optimize Everything

OK… here's the big one.
(Well, we know the rest of this stuff was big, but this is perhaps even bigger for the uninitiated.)
Gather your thoughts, grab a coffee, and let's get down to Search-Engine-Optimising the heck out of ALL your content.
Ready, set, SEO!
Keywords
Once you know the keywords you're targeting—and if you don't already know, read this fantastic guide on how to find them—there are some rules about implementing them in your content.
Here are the two most important things to know about keywords:
Placement: Place your keyword in your…

Header or title
Subheading
Meta description
Page URL
Ideally, in the first sentence of your content if appropriate.
BUT be careful not to use it so often that it looks weird.
Generally speaking, it's best to pick three or four of these options and leave the rest to flow naturally.
Density: Keyword stuffing used to be a lazy SEO trick, but Google has long been wise to it, and it never made for compelling—let alone natural—content anyway.Make sure your keyword density is between 2-3% of your overall content for optimal ranking results.Check this by pressing Ctrl+F and entering your keyword to see how many times it appears in your text.(For example, between 10 and 15 instances of the same single keyword in a 500-word piece of content = winning.)You can also use a free keyword density tool like this one.
ALERT! There is a sneaky, hidden way your writing can become keyword-stuffed without you realizing… and it's all because of pesky longtail keywords.
See below to avoid falling into this dastardly trap!
Longtail Keywords
Imagine your longtail keyword is "English bulldog for sale." Random, but ok.
It makes sense that your content might also include a lot of instances of the word dog, separate from your keyword phrase.
Like: "A dog makes a perfect companion. Check out our English bulldog for sale today."
That 'dog' doesn't count toward your keyword density, right?
Wroooong.
When counting instances of longtails, you should also Ctrl+F each individual keyword as well.
You might only have used 'English bulldog for sale' five times in your piece, but 20 for the word 'dog' alone?
You better cut that down.
This is why you need an extensive repertoire of synonyms on hand when writing. Swap some instances of "dog" out for "puppy," "hound," "four-legged slobbery friend," etc.
Not only does this prevent accidental keyword stuffing, but it makes your writing less repetitive and a much better read.
Variety is the spice of content!
Pro Tip: Our favorite content tool, Readable.com, has a Keyword Density feature where it shows you the percentage inclusion of one, two, and three-word phrases in your text. Quickly weed out those over 3% or fix under-optimized keywords at a glance!
Guest Posts and Link Building
As we have touched upon in this Mega Guide, some (ok, most) guest posts are written for link building purposes.
Authority links to your site make Google think you're a Big Name on Campus, and therefore ushers you a bit further up the search ranks.
Check you out, VIP!
People can craftily build additional links to their sites by writing an article with their site link naturally embedded into it and getting it posted on an authority site.
This makes it appear to the search engine that the authority site considers you worthy of posting about, and therefore, you get a boost in ranking.
That's why many authority sites will charge you for this service—you're using them to get a leg-up in the search engine ranks.
It's up to you to:
Target the sites you want to guest post on
Convince them to publish your GP
Decide how much you're willing to pay (if at all).
You can find out a site's DA (domain authority) through tools like Website Authority Checker.
DA is a valuable indicator of how much link juice scoring a backlink on that particular site will bring you.
At SEOButler, we know the struggles of matching your post with a relevant authority site and doing time-consuming outreach all by yourself.
That's why we've painstakingly built a massive database of GP-friendly sites you can choose at a glance.
And we'll even write the article for you.
Sound too good to be true?
We're not joking!
See our all-inclusive GP service here!
Original Content
Ok, we've gone on about this enough.
But here's our final word on the subject.
Always run your content through Copyscape to check for duplicates across the web.
Especially if it's content submitted to you by someone else.
Publishing content that already appears elsewhere on the web will result in a downturn in search engine ranking for you.
SO… If you hire freelancers or have a guest post submitted to your site, always use Copyscape to verify that it doesn't appear anywhere else on the web before hitting publish.
Protect your precious SERP ranking.
It's the whole aim of the game!!!
Needless to say, SEOButler's content team always takes these measures when you order content from us.
Everything is 100% original, beautifully written (if we do say so ourselves) and we will revise it for free if you're not totally happy!
Last Words
Oh! This appears to be the end… (Phew, right?)
We hope you've thoroughly enjoyed learning to be a Content Mega Master with our Content Mega Guide.
As ever, we love hearing your feedback.
Is there anything we should add to this guide?
Something you want explained in more detail?
Let us know in the comments!
[cta]