It's easy to think of digital marketing conferences as a luxury — not a necessity.
We prefer to look at them as an investment.
Yes, conferences cost time and money.
But, just as with any investment worth making, the payoff — in new business, relationships, education, and inspiration — often far outweighs the cost.
The key is knowing where to spend your time and money.
Like any Top 10, our choice is subjective (Spoiler alert: Jonathan, our founder, is speaking at some of 2020's best digital marketing conferences).
All disclaimers aside, we've put this list together with the best intentions.
Here you'll find a selection of the biggest digital marketing conferences as well as some that fly under most marketer's radar.
In case you're still on the fence as to whether you should attend a digital marketing conference in 2020, here's some recommended reading from Moz founder Rand Fishkin.
And without further ado, here's our Top 10 (in date order):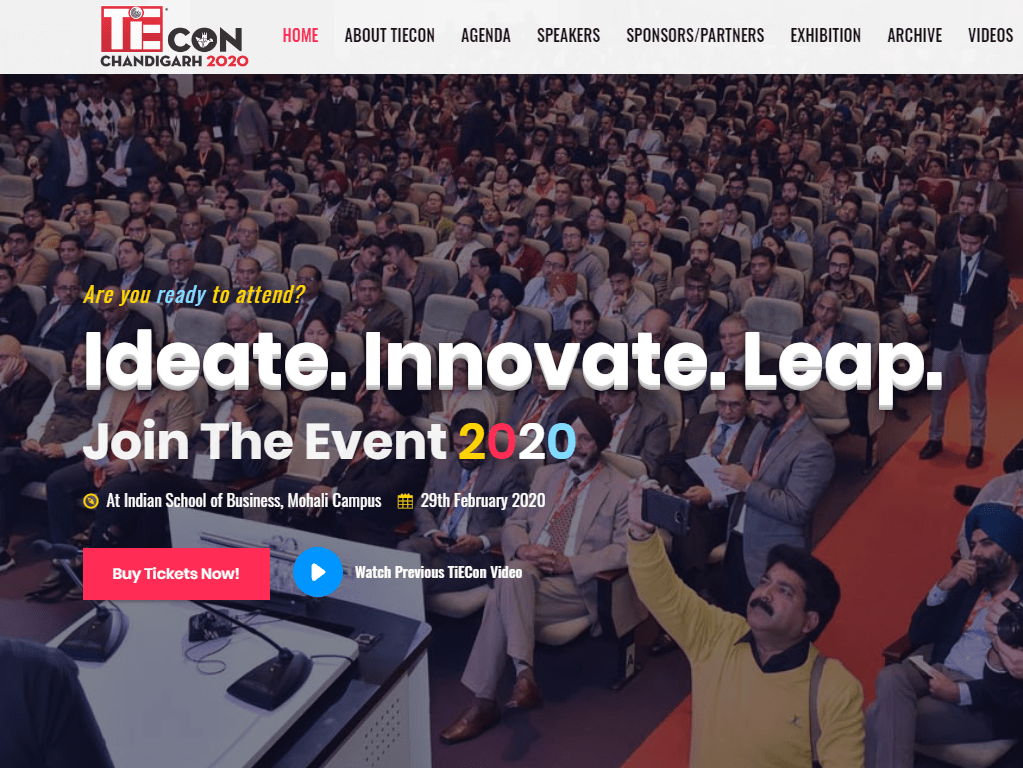 Chandigarh, India. February 29th, 2020. Santa Clara, CA, USA. May 8th & 9th, 2020
Many people, including Jonathan, feel that India is poised to become the next Silicon Valley.
Since its founding in 1992 by a group of entrepreneurs, executives, and senior professionals with roots in the Indus region, The indus Entrepreneurs (TiE) has worked to make that dream a reality.
TiE now boasts over 15,000 members worldwide and aims to support entrepreneurs from the earliest stages of their business journey and beyond through mentoring, education, networking, and funding.
One of the most visible aspects of TiE's mission is its TiECon events — held in cities all over the world.
The Silicon Valley chapter's TiECon 2020 event boasts over 220 speakers and 4,500+ attendees over two days in Santa Clara, on May 8th and 9th 2020.
Jonathan is excited to be making his TiECon debut, February 29th, in Chandigarh, India.
He's joined by some of the biggest names in Indian tech alongside familiar digital marketing names like Mads Singer and Craig Campbell.
San Diego, CA, USA. March 1st – 3rd 2020.
"This was honestly the best conference I've attended in my professional life."
Strong praise indeed from an attendee of one of Social Media Marketing World's recent editions – and that testimonial is just one of many.
If social media is a core part of your digital marketing strategy — and isn't it for just about everyone — SMMW could be a good fit.
Tracks include:
Instagram Marketing
Facebook Ads
Facebook Organic
Youtube for Business
Twitter marketing
Messenger Bots
LinkedIn Marketing
Despite its power to drive conversions and sales, social media marketing remains intimidating for many and often poorly understood.
Fully immersing yourself in SMMW — brought to you by the people behind Social Media Examiner — can change that for good.
San Diego, CA, USA. March 31st – April 2nd, 2020 
Founded and hosted by famed Digital Marketer, Ryan Deiss, Traffic and Conversion Summit is now in its 11th year, making it perhaps the most well-established digital marketing conference — and certainly one of the most well-attended.
Over 10,000 attendees are expected at T&C 2020 to see 85+ speakers.
Confirmed presenters thus far include Hawke Media CEO Erik Huberman, Daniel Harmon founder of Harmon Brothers, and Mark Roberge of Harvard Business School.
Aside from featuring first-rate speakers and seven different specialty tracks, T&C prides itself on being a fantastic place to network, whether that's with fellow digital marketers or with decision-makers from six to nine-figure businesses.
If you can only go to one conference this year — and SEO is only one component of your digital marketing focus — T&C 2020 is hard to beat.
Tempe, AZ, USA. April 3rd – 6th, 2020.
Pitching itself as a pitch-free, no-frills alternative to the glitz and glam of some conferences, SEO Spring Training takes place in the sunkissed desert city of Tempe, AZ, near Phoenix.
Heavy hitters include:
SEO Spring Training also gives Jonathan his first scheduled start of the 2020 North American conference season.
We're confident he'll hit it out of the park.
West: San Jose, CA. April 15th-17th, 2020. East: Boston, MA. October 6th – 8th 2020.
What if you could do everything you do as a marketer in half the time?
And do it better?
Martech may not be able to deliver quite those results, but if you're a senior-level marketer
determined to streamline and improve your processes — Martech deserves a close look.
Martech is all about where marketing, technology, and management intersect.
Where once these disciplines were largely separate and clearly defined, increasingly the silos are disappearing. It's no longer so easy (or desirable) to separate the creative, the nerd, and the suit.
Martech is a conference that hosts a Stackie Award, given to five entrants whose organization is judged to have the most outstanding marketing stack.
In other words, Martech is unlikely to be a good fit for small agencies, affiliate marketers, and local businesses.
But if you're doing digital marketing at scale, Martech is the place to be.
Brighton, UK. April 16th-17th, 2020
If you're on the other side of the pond and a trip to sunny SoCal doesn't appeal — or is currently beyond your means — brightonSEO has emerged as one of the premier digital marketing conferences in Europe.
BrightonSEO is held twice yearly. The spring installment's speakers include John Mueller of Google Webmasters fame alongside SEO professionals from all over the world, tackling such nitty-gritty SEO issues as:
Reducing the Speed Impact of Third-Party Tags
Why Comparable Entity Mining Should Be an Integral Part of Your Keyword Strategy
Spying on Google: Using Log File Analysis to Reveal Invaluable SEO Insights
Brighton isn't only home to brightonSEO, it's also the seaside home of SEOButler. We host an informal meetup we call NotbrightonSEO during the conference. Stop by if you're attending brightonSEO. Contact us here for details.
Seattle, WA, USA. July 6th -8th.
It's virtually impossible to be even tangentially involved in digital marketing — and certainly in SEO — without knowing Moz.
Co-founded by Rand Fishkin in 2004, Moz is one of the most venerable SEO toolsets, educational resources, and digital marketing communities in existence.
Little wonder then, that MozCon is one of the premier search marketing conferences.
Speakers always include a stellar cast of Mozzers — such as Britney Muller and Dr. Pete Meyers — as well as thought leaders like Brian Dean of Backlinko and Unbounce co-founder, Oli Gardner.
Attendees also receive a professionally edited video of all presentations — making it easy to share all the insights with your team.
Still on the fence?
Here's a handy post from Moz outlining the reasons you should attend MozCon this year.
Boston, MA, USA. August 18th – 21st, 2020
Not only does Inbound boast massive topiary, it's also hands-down one of the biggest digital marketing conferences out there.
A select roster of recent speakers speaks for itself…
Michelle Obama
Gary Vaynerchuck
Brené Brown
Seth Godin
Deepak Chopra
The list goes on.
If you're looking for brass tacks marketing hacks, Inbound is not for you.
But if you're thinking big picture, and you want to be inspired and surrounded by like-minded individuals — 26,000+ attendees are expected in 2020 — Inbound may be worth the investment.
Inbound is by far the most star-studded conference on our list.
How?
It all makes sense when you realize that Inbound is presented by Hubspot, the company that literally invented inbound marketing.
Cleveland, OH, USA. October 13th – 16th, 2020
If you're like us and your world revolves around content — then Content Marketing World may be the conference for you.
While content, in one form or another, plays an important role at pretty much every digital marketing conference, at CMW it takes center stage.
CMW's singular focus means the conference gets granular with content marketing.
Visual Storytelling
Content Creation and Development
Millennial Marketing
Content Distribution and Promotion
Branded Content
Speakers for 2020 have yet to be announced, but if last year's schedule — which included celebrities like Mindy Kaling of The Office and punk rock legend Henry Rollins alongside hardcore marketers like Jay Baer of Convince & Convert — it's bound to be an inspiring mix.
Chiang Mai, Thailand. November 12th – 13th, 2020.
CMSEO will always hold a special place in SEOButler's heart.
Our founder, Jonathan Kiekbusch, is one of less than a handful of speakers invited to deliver a keynote presentation more than once.
Last year, most of the SEOButler team attended — I covered our CMSEO experience for the blog extensively — and it was an immensely rewarding trip.
We'll be in attendance again this year — it's definitely a highlight on the global conference calendar, and the one SEO event we'd never miss.
Speakers have yet to be announced, but with previous speakers like Matt Diggity, Tim Soulo, Kyle Roof, Ryan Stewart, Charles Floate, and Gael Breton appearing in prior editions of CMSEO, there's no reason to expect less than a who's who of contemporary SEO influencers and experts.
Tickets go on sale April 6th, and if last year is any indication, I advise you put that date in your calendar. CMSEO 2019 sold out in just days.
What Did We Miss?
Where are we off base?
Let us know in the comments.